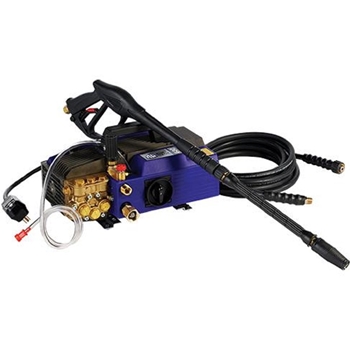 Nowadays, it is very hard to find a good pressure washer – especially considering that the more powerful ones also tend to be relatively bulky. However, with Annovi Reverberi, things tend to be lightweight. In fact, in most cases, the units made by them are lightweight enough to be carried by hand.
Out of all their models, one, in particular, has made itself most noticed. With this Annovi Reverberi AR630TSS-HOT review, we wish to help you determine whether this is the right choice for you or not.
Annovi Reverberi AR630TSS-HOT Commercial Pressure Washer Specifications
Most commercial pressure washers only have one temperature that you can go for: cold. This can be very useful for dry stains such as dirt or debris – but it is generally not so great when it comes to dealing with greasy stains. Granted, soap can be very helpful – but unless you amp up the temperature, you might have a very hard time cleaning the surface.
This is precisely why this electric washer is such a great option for difficult stains. Since it features a factory-installed seal kit for hot water, it can easily allow water up to 180 degrees Fahrenheit to go into your unit. Add the siphon tube that allows you to use detergents in the mix, and you may easily tackle the difficult stains that tend to gather in the garage floors.
This commercial pressure washer features a very powerful 2-HP induction motor that is suitable for professional cleaning. Plus, considering its strength, it has 6 times the life of your average motor.
The pump is also more than what you would normally expect from such a unit. Being a triplex plunger, the ceramic plungers will allow your unit to last longer and run cooler. Plus, since it features a brass head, it is also relatively more durable than a plastic component.
The power is also very impressive. It might be an electric model, but it can easily reach 1900 PSI at 2.1 GPM. This is everything that you need in order to finish some medium-duty work.
Safety has also been touched upon with this commercial pressure washer. With the auto stop-start, the life of the pump and the motor is extended. Moreover, the automatic safety valve will protect the pump by venting water that has been overheated.
Customer Support and Warranty
The warranty for this unit is standard: typically, two years. Still, depending on where you buy it from, you may also get a one-year warranty. For this reason, you might want to be particularly attentive when it comes to browsing through the buying guide. Depending on the seller, you might be able to negotiate a bigger warranty.
That being said, if you are careful about the unit and conduct the proper maintenance, you should be able to replace the pieces that have been worn down. Needless to say, if the unit breaks down because you did not give it the proper maintenance, it will be considered that it was your fault – not the manufacturers. In this case, you might not receive coverage – but otherwise, help is immediate and prompt.
What to Expect from the AR AR630TSS-HOT Commercial Pressure Washer
This pressure washer is very convenient to have around – and if you read the owner's manual, it will be very easy for you to operate (even if the setup is rather unique). The unit in itself is very easy to carry, and you may simply place it on a work surface or a wall when operating it.
Perhaps the most convenient aspect of this unit is the fact that it can use hot water. This way, together with the soap, it can tackle even the more difficult stains – despite the fact that it has medium-level power.
Pros
The water temperature of this unit can go fairly high, which is why it can handle even more difficult stains. Plus, the adjustable spray head is convenient when you have hard-to-reach areas.
Cons
While small in size, the cleaning power of this portable pressure washer is still very low. Plus, people have observed that the setup might be rather complicated, particularly when you are not used to pressure washers.
Final Thoughts
If you are looking for a portable unit that will not take a lot of space, then this pressure washer is certainly a suitable choice for you. It may be small, but its cleaning power is superior – particularly considering its use of hot water. Hopefully, our Annovi Reverberi AR630TSS-HOT review proved informative to you.