The best portable pressure washer is a great thing to have around the house. But these machines are heavy and robust. Well, if space and weight are a concern, getting a portable unit seems like a logical path to take. Some manufacturers create units with the sole purpose of making them easy to carry. No matter if you are carrying the unit by hand or by dragging it along, such a pressure washer will be made with convenience in mind.
If you're interested in such an item, read on to discover our portable pressure washer reviews and find out more details about these devices. Portable units might not be the strongest out there, but they are the most convenient for sure.
PRODUCT
DETAILS

Sun Joe SPX3200 GO ANYWHERE

Price: $$
Customer Rating: 4.5
Weight: 19.4 pounds
Dimensions: 19 x 11.56 x 2 inches
Pressure: 2030 psi
GPM: 1.76 gallons
Cleaning Power: 3572
Power Source: Electric

View On Amazon

Greenworks GPW1501 1500 PSI

Price: $
Customer Rating: 4.1
Weight: 17 pounds
Dimensions: 11.4 x 17.1 x 9.4 inches
Pressure: 1500 psi
GPM: 1.2 gallons
Cleaning Power: 1800
Power Source: Electric

View On Amazon

Sun Joe SPX6000C-XR iON Cordless Pressure Washer

Price: $$$
Customer Rating: 3.2
Weight: 19.8 pounds
Dimensions: 17.5 x 16.5 x 18 inches
Pressure: 1160 psi
GPM: 0.7 gallons
Cleaning Power: 812
Power Source: Cordless

View On Amazon

Karcher K3 Follow-Me

Price: $$
Customer Rating: 3.4
Weight: 16.3 pounds
Dimensions: 21.7 x 12 x 12.8 inches
Pressure: 1800 psi
GPM: 1.3 gallons
Cleaning Power: 2340
Power Source: Electric

View On Amazon

Power Products USA 1500 PSI

Price: $
Customer Rating: 4.2
Weight: 26.3 pounds
Dimensions: 18 x 14 x 12.5 inches
Pressure: 1500 psi
GPM: 1.3 gallons
Cleaning Power: 1950
Power Source: Electric

View On Amazon

YARD FORCE 1600 PSI All-in-1

Price: $
Customer Rating: 4.0
Weight: 17 pounds
Dimensions: 16 x 12 x 12 inches
Pressure: 1600 psi
GPM: 1.2 gallons
Cleaning Power: 1920
Power Source: Electric

View On Amazon

WORX WG644 Hydroshot

Price: $
Customer Rating: 3.6
Weight: 8.5 pounds
Dimensions: 40.2 x 4.7 x 7.7 inches
Pressure: 450 psi
GPM: 0.9 gallons
Cleaning Power: 405
Power Source: Cordless

View On Amazon
Best Portable Pressure Washers Reviews
1. Sun Joe SPX3200 GO ANYWHERE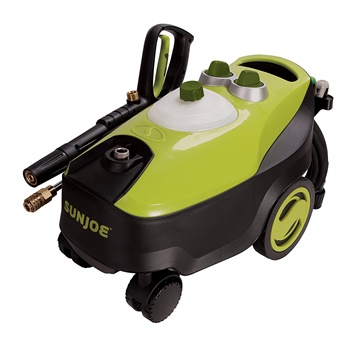 The name of this unit speaks for itself; it is a pressure washer that can easily be taken anywhere. Weighing a little under 20 pounds, this pressure washer looks like a vacuum cleaner that you can carry from one room to another.
Featuring 2030 PSI and 1.76 GPM, this product has quite a fair amount of power – but not as much as the best commercial pressure washers. This is why not a lot of weight has been added – despite this, the unit is efficient.
Aside from its weight, this device also features 360-degree easy-glide wheels that will turn around in every direction. This will ensure maximum portability, allowing you to pull the unit wherever you go – no matter if you have to turn around.
Pros
Lightweight and ideal for outdoor cleaning
The energy-saving motor also makes it more lightweight
It features a 27 fl oz soap tank that will improve your cleaning
The wheels make the unit easier to transport
Cons
The power labels are slightly difficult to read
Max PSI is difficult to reach
Read more: Sun Joe SPX3200
2. Greenworks GPW1501 1500 PSI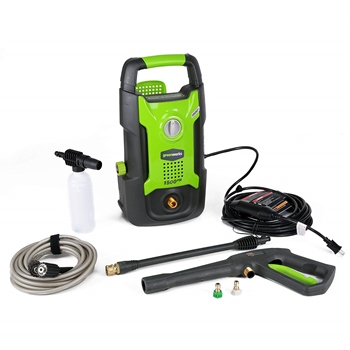 Once more, this is a very powerful unit that has a very staggering impact on the work that you do. Considering that it can only reach 1500 PSI, it may not be used for commercial purposes – but if you have some cleaning to do around the house, then this is the perfect unit for you.
This small unit is fully capable of handling small to medium cleaning jobs – all the way to dirt and grime. The unit can be placed both horizontally and vertically, depending on your cleaning preferences. It only has 17 pounds, so you can easily move it around.
The Greenworks small power washer also comes with a series of useful accessories, including a soap applicator. This way, you may get every job done with ease. You also have two quick-connect nozzle tips that you may change whenever you need since they can be easily detached.
Pros
Comes with additional safety features
The unit is very easy to assemble
Even with its compact form, the unit is very powerful
Cons
The hose is of a fairly low quality
The motor is rather loud when you start it.
Read More : Greenworks GPW1501
3. Sun Joe SPX6000C-XR iON Cordless Pressure Washer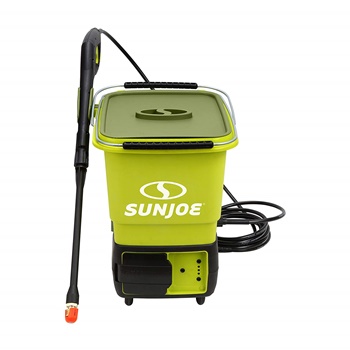 This unit may not have one of the highest PSI outputs, but at 1160 PSI, it can still get the basic job done. The fact that it comes with such a low output is likely the reason why this unit is so compact and lightweight.
Most similar units come with a cord that you have to connect to an electric output. However, this portable pressure washer is cordless and is also equipped with a 40V rechargeable battery. This is actually very useful if you want to get some cleaning done away from a power source – and it is certainly the more lightweight alternative to gas units.
This power washer can draw water from either a water tank or a garden hose. As it weighs slightly under 20 pounds (with an empty tank), the unit is quite lightweight. Plus, the 4 wheels further increase the unit's portability.
Pros
It is very easy to carry around since it does not have a cord
The bucket design allows you to work without a plugged-in water supply
The rechargeable battery is fairly long-lasting
Cons
The rechargeable battery also leads to a low PSI output
The wheels cannot handle harder terrain (fields or unleveled grounds)
Read more: Sun Joe SPX6000C-XR iON
4. Karcher K3 Follow-Me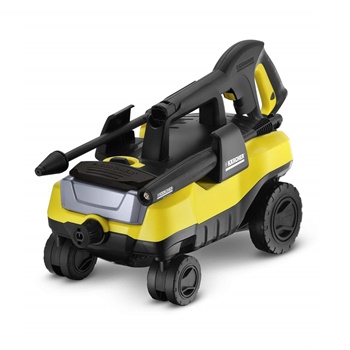 As the name of this portable power washer suggests, this is the kind of machine that will "follow you" wherever you go. Since it is lightweight, all you will have to do is pull it towards you – like you would with a vacuum cleaner. It's so small and compact that you won't even notice it is right behind you.
With its four-wheel design, this pressure washer is very innovative – and it will be difficult to tip over. The power may not be suitable for hard jobs and large areas – but even so, it may still tackle light jobs and some medium-difficulty tasks.
The assembly of this unit is very quick – and even if you do not have prior knowledge in handling power washers, you should still be able to get this unit going in just a few minutes. Once you start it off, you could easily use it to clean cars, decks, garage floors, vinyl fences, concrete pavements, and so on. You also have a detergent tank so that you can clean difficult stains more easily.
Pros
The 4-wheel design prevents it from tipping over
It is compact and lightweight, perfect if you live in a small space
The detergent tank allows you to tackle medium-difficulty jobs
Cons
Some customers reported quality issues such as leaks
It can't successfully manage every medium-difficulty job.
Read more: Karcher K3 Follow-Me
5. Power Products USA 1500 PSI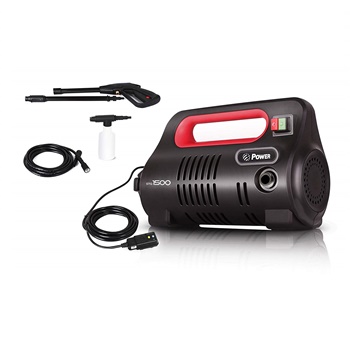 If you are looking for something small yet reliable, you may want to take a closer look at this electric unit. Featuring a 1.3 GPM and 150 PSI, this device may easily handle light to medium tasks such as cleaning your car, the patio, or anything with a slightly lower level of dirt.
With its new high-tech motor, this unit has a long lifespan – and is also quite silent, compared to other units of similar power. This is a good option for anyone, particularly if you have neighbors complaining of the noise.
At 26 pounds, this is not among the most lightweight units presented in this guide – still, it is easy to carry around. This is mostly thanks to the ergonomic handle that allows you to carry it like a bag. It may not have wheels – but at the same time, it will ensure that the power washer won't be rolling away from you.
Pros
Compact design that is easy to carry
The pressure can handle lightweight to medium jobs
It is very quiet compared to other similar models
Cons
It does not have wheels, so you will have to carry it by hand
The power is still low for some people
Read more: Power Products USA 1500 PSI
6. YARD FORCE 1600 PSI All-in-1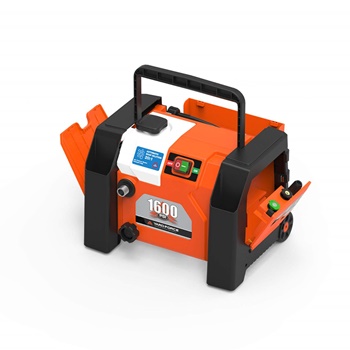 Those of you looking for a reliable power washer that barely takes any more space than a picnic bag should definitely consider this unit. With its compact design, this can easily be carried from one place to another. Plus, since this power washer features built-in storage compartments, you can hide away the cable, the hose, and the nozzles without continuously bumping into them.
Unlike many portable pressure washers of this type, this one features roll-along wheels that will keep you moving wherever you want. All you have to do is to gently pull on the hose, and this unit will follow you.
This item also features a bonus turbo nozzle that will allow you to tackle even the most difficult stains. Plus, the 31-inch soap tank built into the device will allow you to add detergent in the unit – ensuring that your items get the deep cleaning that you deserve.
Pros
The price is very reasonable, making it perfect for shoppers that are on a budget
It has a lower noise level compared to other units
The storing compartments are great for keeping the unit compact
Cons
The electrical cord can sometimes be difficult to place back in the compartment
The pressure switch is fairly delicate
Read more: YARD FORCE 1600 PSI All-in-1
7. WORX WG644 Hydroshot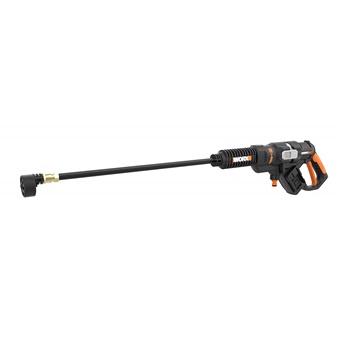 If you are looking for something extremely lightweight, then this unit should work perfectly for you. At only 8.6 pounds, you can easily carry this device in your hands from one place to another, without tiring. The unit looks fairly much like a rifle – only instead of shooting bullets, it shoots pressured water.
Featuring four times the power of an average garden hose, this portable power washer is perfect for handling light jobs such as cleaning a dusty car, the porch, the patio – just as long as there is not a lot of grime on it. It is also a good option for cleaning out a rug, as the pressure is just perfect for it. The different nozzles will also provide multiple spray patterns.
This unit is battery-powered – which means that you will not have to limit yourself to an electrical outlet. This is actually quite a good option if you are planning to do most of the cleaning outside, away from any power sources.
Pros
Very compact in its size
The cordless design allows you to take the job away from electrical outlets
It is perfect for cleaning light dirt
It can draw water from anything, from a hose to a water bucket
Cons
The power will likely not handle medium-difficulty jobs
The battery may run out quickly
Read more: WORX WG644 Hydroshot
What Makes a Pressure Washer Portable?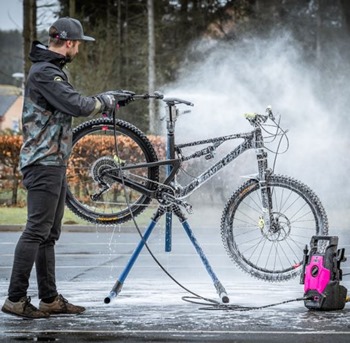 Pressure washers have always been there for us to tackle difficult cleaning jobs that regular garden hoses cannot handle. Still, while they may work on almost the same system, there's a big difference between portable pressure washers and a regular unit.
To put it simply, a portable pressure washer was made to do exactly what its name suggests: to be portable. Such a unit should allow you to easily carry it from one place to another.
Depending on the manufacturer, various methods are used to make the unit lightweight. The most popular method is to install a smaller motor, with a lower PSI and a lower GPM. You may find out why those terms are important by visiting our front page.
That being said, there is also the possibility of making a unit more portable by installing wheels. This way, you may maintain a higher PSI and GPM to tackle even slightly more difficult stains – but you will be able to easily transport the unit to where you want to get the job done.
Portable pressure washers also use fewer components – which will make them cheaper compared to their full-sized counterparts. Because of this simplicity in their components, they represent the perfect thing to use if you have a smaller area to cover – and if you are mostly dealing with just dust and dirt.
Moreover, portable power washers do not use gas tanks. In a way, you could say that a gas pressure washer is also portable since it does not limit you to an electric outlet. However, with the addition of the fuel tank, you cannot say that these devices are fully-portable. On the other hand, portable counterparts use either electric cords or batteries – which is why they tend to be more lightweight.
Portable Pressure Washer Types
Portable pressure washers come in various types – the choice depending on the task that you want to handle. The cleaning power of these units is generally not affected by the type that you buy; it will mostly affect its energy source and the water supply. Overall, here are the types that you may go for:
1. Standard Portable Pressure Washers
As the name suggests, these power washers represent the standard type that you may come across on the market. Weighing around 15 to 200 pounds, these units feature a power cord that you plug into an outlet – which means that they are usually electric powered washers. They are a suitable choice if you have some light-cleaning tasks to do on your front porch, and you have access to a power outlet.
These units tend to be inexpensive compared to other similar models, as their components are the simplest to assemble. The advantage to these units is that, since you are continuously connected to a power source, you do not have to worry about power running out. Therefore, you may take your time while doing the cleaning.
Similarly, standard units connect to running water supplies, such as a garden hose. This will also ensure that you have continuous water flowing through your unit, without having to worry about the refill.
2. Cordless Portable Pressure Washers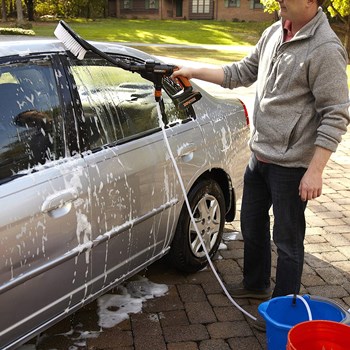 If you do not have immediate access to a power source, then a cordless small pressure washer might seem to be a sound choice for you. Since these units work on batteries, you will not be contained to a single working space. For all it's worth, these units can be taken in the middle of the wood, as long as you believe it will help you get the job done.
The disadvantage here is that since these units work on batteries, they also have limited running power. Unlike a standard portable unit that will work continuously once connected to a power source, these units will stop working once the battery power dries out.
In most cases, these units will include a rechargeable battery – but in certain cases, you might have to procure your battery yourself. Depending on the battery power that you go for, these units might work from under an hour to a little under eight hours.
All things considered, if you need more portability and do not always have the luxury of having a power source nearby, then a cordless handheld power washer is certainly worth considering.
3. Portable Pressure Washer With Tank
Ideally, when handling a portable pressure washer, you might want to have a water supply nearby. This way, by connecting it to a flowing water supply using a garden hose, you may have an unlimited water supply – which will give you enough resources to finish the task without interruption.
However, there are cases when it might not be possible to connect to a water source – in this situation, a small pressure washer with a tank might prove to be very efficient. All you have to do is fill the water tank, and take the pressure washer where you might need. When the water runs out, all you need is a bucket of water to refill the tank as you need.
Keep in mind that, similar to battery-powered units, the supply will eventually run out with these devices. This means that you might have to continuously refill the tank whenever the water runs out. However, in instances when you do not have access to water sources, this unit can be very convenient.
In case you do not have access to a power source and a water supply, you can also go for cordless power washers with a tank. These units will allow you to take the job wherever you want, so that you may get things done quickly and efficiently.
Benefits and Drawbacks of Portable Pressure Washers
When it comes to portable pressure washers, there are certain advantages and drawbacks that you might want to keep in mind. This will help you determine whether a portable pressure washer is a right choice for you or not.
1. The Advantages
Perhaps the most obvious advantage of handheld pressure washers is their size. Most of the time, people purchase small pressure washers because they do not want to haul a full-size unit across the entire property. Considering that a standard unit weighs anything from 30 to 60 pounds whereas a portable one doesn't go past 20 pounds, it is easily understandable why the latter would be more popular.
Most of the time, mobility is a great problem – particularly if you only have a light task to deal with and you don't want to pull out the big guns for that. In this case, a portable power washer can easily do the trick, allowing you to get the job done in just a couple of minutes.
The benefits are even more obvious if you get a battery-powered one. If your unit runs on rechargeable batteries, you can take the job anywhere you want – even if you do not have an electrical outlet nearby. Therefore, if your car is in the backyard in the need of a wash, this type of power washer will come to your advantage.
Another advantage of portable power washers is that they don't always need to be coupled to a water source, such as a hose. In most cases, all they need is a bucket – so, if you do not have a water source around you, such a unit can easily allow you to get the job done.
Last but not least, since a portable water pressure does not have such high power, it will barely consume anything. This means that you won't have any surprises when the electricity bill comes around. You'll be saving a lot of money while keeping everything clean.
2. The Disadvantages
If a portable power washer is what you have been looking for, then we cannot say that there are many noteworthy disadvantages. Perhaps the most bothersome thing is that these units have a much lower PSI and GPI compared to full-size models – which also means a cleaning power that is a lot smaller. However, this is to be expected, since the focus here was to make these units smaller and more manageable.
Another noticeable thing is that these units tend to have a smaller warranty compared to full-size power washers. In most cases, if the warranty is not present, you might have to ask the seller for one – at an additional fee.
Portable vs. Residential Pressure Washers
So, you have the option of choosing between a portable pressure washer and a residential model. How do you actually choose between the two? First of all, you will have to think about the surfaces that you are planning to clean with these units, as well as the terrain and some various different factors.
In order to determine whether a small pressure washer is a proper choice for you, then you need to understand how each model might be able to help you.
1. Portable Pressure Washers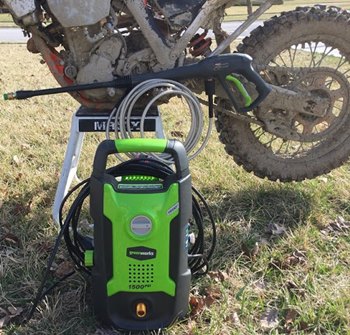 Portable pressure washers are the perfect thing to have around if you are planning to undergo light cleaning jobs – for instance, refreshing a particular surface or washing away dust and dirt. Since these units have a relatively small power, they are perfect if you aren't planning on using them all that often.
Small power washers are also perfect if you do not have the time and disposition to set and wheel around a full-sized unit – particularly when you are handling a simple and short task.
Because of their simplicity when it comes to the way they have been built, a handheld pressure washer will generally be less expensive when compared to a full-sized residential unit. While a standard unit can cost anywhere from several hundreds of dollars to over one thousand, a handheld model can be found for $100 or less.
These are also the perfect units if you do not have such wide surfaces to cover. For instance, if you only have to clean your driveway, a bike, or your front porch, then you do not need to invest in larger units with high GPM and PSI.
2. Residential Pressure Washers
If a low PSI and a low GPM do not help you get the job done, then you might want to invest in a residential unit with higher cleaning power. These are generally suitable choices if you are dealing with difficult stains such as garage oils and grease, driveway tracks, and gutters. These can also help you prepare a surface for a new paint job since a high-pressure one can even take out the previous paint layers.
If the terrain is hard to reach, and you still require a powerful unit, you can get the benefit of portability by going for a gas residential model. Most of the time, these units have been equipped with wheels that allow transport over every type of surface.
While most portable pressure washers do not have the benefit of hot water jets, a standard residential model may have this option for you. This can prove very useful if you are dealing with difficult greasy stains.
To summarize things up a bit, residential pressure washers are a great thing to have around if you are dealing with grease and difficult stains on a daily basis. On the other hand, if you only have light cleaning jobs to do, then a portable pressure washer should be more than enough to get the job done.
What Can or Cannot Be Cleaned with Small Pressure Washers?
When it comes to portable pressure washers, there are certain items that can or cannot be cleaned with these units. This isn't to say that a portable pressure device will damage any item that you might be cleaning – on the contrary, it will not have enough power to do that. So, it will prove to be inefficient in certain circumstances.
Let's see what you can and cannot clean with a handheld washer.
1. What Can Be Cleaned with a Portable Power Washer
Portable pressure washers can be used for a variety of purposes – as long as you keep the job to something light-duty and sometimes, medium-duty. Here are a few things that portable power washers can clean:
1.1. Your Car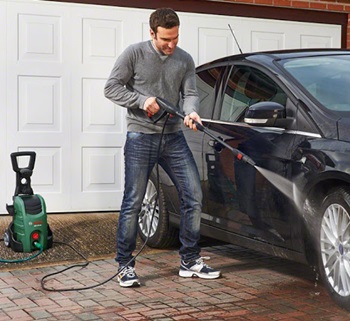 This is likely one of the most popular uses for portable power washers. Since cars usually only gather dirt and dust, they do not require such a strong cleaning power. Plus, considering that you also have to be careful about the paint, a lower PSI is generally recommended.
1.2. Your Front Steps
Nothing makes a home look nicer than some clean front steps. From all that stepping on them, the dirt stains can make the stairs look very unsightly. A small power washer can very much help you in this regard.
1.3. Your Lawn Equipment
Do you have a lawnmower or some lawn equipment that is in desperate need of cleaning? In this case, you might be able to benefit from a small pressure washer. It is very efficient when it comes to removing dirt from such equipment.
1.4 Your Patio Furniture
Have you ever wanted to enjoy a cup of coffee on the patio and noticed that the furniture looked green or had cobwebs? Well, a portable pressure washer can help you get rid of all the stains – particularly if you go for a model that also has a soap tank.
1.5. Your Carpets
Generally speaking, when it comes to carpets, lower PSI and GPM are recommended so that you don't damage them. Thankfully, with handheld washers, the pressure may easily be modified and lowered so that sensitive objects are not affected.
2. What Can't Be Cleaned with a Portable Pressure Washer
Just as there are some things that can be cleaned with a portable pressure washer, there are some things that are not "compatible" with such a unit, so to speak. Here are some instances when using this kind of pressure washer can prove to be inefficient:
2.1. Greasy Stains
Portable power washers were meant to clean simple stains that aren't difficult to take out – which generally means dust, dried dirt, light mud, and so on. However, it might not be very efficient if you are dealing with grease stains. Not only do these stains require higher PSI, but they also need hot water sprays.
2.2. Paint Layers on Fences
If you only want to clean the fence of dirt, then these types of pressure washers might prove efficient. However, if your purpose here is to take off layers of paint so that you may repaint the fence, then you will find that this kind of pressure washer is not very effective.
2.3. Heavy-duty Dirt
A portable pressure washer can be useful when it comes to handling light tasks with little dirt, as well as some medium-difficulty jobs. However, it can't handle a heavy-duty job. Not only does it not have the necessary cleaning power, but it also does not have an engine strong enough to handle long and continuous tasks.
Handheld Pressure Washer Buying Guide
When it comes to portable pressure washers, there are a few aspects that you might want to consider before buying. Among the most important are the following:
1. GPM and PSI
The power of a pressure washer is one of the most important things that you have to consider as a buyer – since this will determine whether the cleaning will be easily done or not. The gallons per minute (GPM) will tell you exactly how much water will be flowing per minute while using the unit, whereas pounds per square inch will relate to the strength of the water pressure.
The higher these numbers are, the more efficient the unit will be in the cleaning task. Bear in mind that with most portable units, the higher those numbers are, the heavier they tend to be.
2. Power and Water Source
Think about where you'll be connecting your pressure washer. For what purpose will you be using it, exactly? Do you have to connect it to an actual power source, or can you get it from a portable source – such as a battery?
What about the water supply? Can you draw water from a tank or a bucket, or do you necessarily have to connect it to a running power supply? Think about where you plan on connecting it before you purchase a portable pressure washer.
3. Durability
Some portable units were meant to only last for the season or so, whereas others can be used for quite a long time. You have to keep in mind that while there are some very durable devices out there, portable units were not made to go through years of being used.
In order to make them more lightweight, manufacturers replace the heavyweight steel with cheaper, more lightweight plastic. While this will make the unit much easier to transfer, it can also compromise the durability of the unit. Therefore, if you are planning to purchase something with increased durability, you should look for products that use higher-quality materials.
4. Weight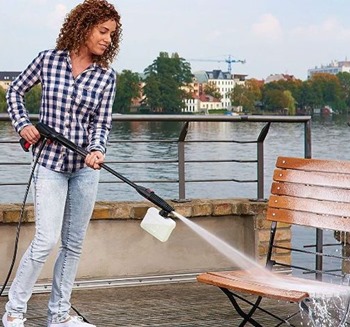 When it comes to choosing a portable power washer, you also have to consider the weight of the unit. You'll want something that you may easily carry around – not something that will have you heaving until you reach your destination. You can find a good quality model that is right under 20 pounds – but if you want to go even more lightweight, you may find some fairly reliable units that are under 10 pounds.
Even if the product is lightweight, you may still want to go for devices that have wheels. This way, they will be much easier to carry, and you will not have to handle the weight of the entire unit.
Ideally, you should buy a product that you can easily carry around in your own hands – because what sense does it make to buy a portable pressure washer if it is super heavy?
5. Additional Equipment
This is likely one of the most important aspects when it comes to purchasing a portable pressure washer – and namely, whether it comes with notable additional equipment or not. For instance, it's always convenient to have a soap dispenser – particularly if you want to go through some thorough cleaning.
Other helpful equipment might include different nozzles, an extendable hose, cleaning brushes, and other useful add-ons. Think about how you plan on using the pressure washer – and then choose the power washer accordingly, based on its accessories.
6. Warranty
The longer the warranty, the better it will be for you. Since these units were not built for frequent use, you need to choose a warranty that you know will cover their usage. Generally speaking, manufacturers will provide around 1-2-year warranties – but in most cases, it can depend on what you pay for it. Not every company will disclose the warranty prior to purchasing the unit, which is why you might want to make some inquiries regarding that as well.
FAQ About Mini Pressure Washers
When it comes to portable pressure washers, you are bound to have some questions that need to be answered. To ensure that you use your unit to its full capacity without causing damage to it, here are a few answers to frequently asked questions:
1. What Kind Of Detergent Should I Use With My Portable Pressure Washer?
First things first, you need to see if your unit actually comes with a detergent or soap tank. Not every portable unit comes with such additional equipment. Most of the time, a pressure washer brand will have its own soap that you can use – but you may also buy similar products from the supermarket. You can use detergents for cleaning the floor, the car, the patio – or any other custom surface that you might have to clean. You can even prepare your own soap for pressure washing.
2. Will a 1500 Power Washer Be Enough to Wash My Deck?
Yes, 1500 PSI is more than you need to power wash your deck. In fact, you should actually be careful with this pressure, as 1500 PSI might leave marks and damage softwood units. Since most units have less than this or are adjustable, these are perfect for cleaning delicate surfaces.
3. How much PSI Should I Use for Cleaning My Driveway?
Many people will claim that you need around 3000 PSI to pressure wash the concrete or the driveway – but this isn't really true. In most cases, driveways are only dirtied by fallen leaves, dust, and biodegradable waste. In this case, 1000 PSI units will be more than enough to get the cleaning done. If you are struggling with greasy stains or tire tracks, simply choose a model that also has a soap tank.
Conclusion
When you think about what the best portable pressure washer can do for you, it's obvious that it can be very helpful when it comes to doing small chores around the house. This type of unit may reduce hours of scrubbing and cleaning to a few minutes. If you are not an avid cleaner but you still want to have the surroundings of your home cleaned, then it's worth investing in a good small power washer.
Hopefully, our portable pressure washer reviews have helped you narrow down your options. Every small pressure washer that we reviewed is easy to handle and carry and will pack enough power to ensure that it can get through some serious (albeit light) cleaning. If you are in a hurry to get things clean, these units can help you when you're under pressure (pun intended).