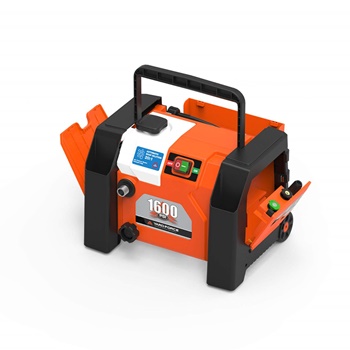 Finding a reliable pressure washer nowadays is not easy – particularly if you are looking into portable models. Since they are small, their pressure power also tends to be lower – which might affect their performance. However, looking at Yard Force, things seem rather promising – and our YARD FORCE 1600 PSI All-in-1 review will help determine exactly how efficient it is.
The epitome of reliability and transportability, this model has pleased a variety of users. Still, depending on your preferences, you need to determine whether its features are suitable for your cleaning jobs or not.
YARD FORCE 1600 PSI All-in-1 Specifications
Packing a 120/60Hz voltage and 13 Amps, this unit is fairly strong – but still manages to remain quiet. Plus, the axial cam pump has all that it needs in order to deliver superior performance. In total, this handheld pressure washer can deliver 1600 PSI at 1.2 GMP.
Weighing only about 20 pounds, this unit is quite easy to carry around. Featuring a foldable handle, you may carry this unit like you would a briefcase. This way, you may bring this unit with you even if the terrain is not appropriate for wheels. In the event that you can use wheels on a particular terrain, this unit allows you to roll it along with you as you go.
When it comes to small power washers, this design has been recognized as unique and convenient. Since it has built-in storage compartments, you will not have cables lying around. Everything will be neat and organized.
Featuring a built-in 32-ounce soap tank, you may tackle difficult jobs with this unit – jobs that you could not normally go through with a regular garden hose. This will ensure that all your cleaning projects get only the best results. Once you are done, the drain plug found at the tank's bottom will allow you to rinse the unit before you change to a different detergent.
This unit has a complete cleaning system – something which you would expect from a quality pressure washer. You have two quick-connect nozzles – a 25-degree and a soap tip. Plus, you'll get a bonus turbo nozzle that you can use to clean the more difficult surfaces – such as brick, concrete, and metal railings.
There aren't any instructions included in the package – but you may look at the operating guide online. This might come in handy in the event that you get stuck.
Customer Support and Warranty
Yard Force provides a 2-year limited warranty on the motor and the pump, covering you for defects in workmanship and material. However, this warranty only covers residential use. If the unit is used for commercial purposes, then the warranty is voided. Otherwise, users say that it is very easy to get into contact with customer support by using their toll-free phone.
The warranty of this pressure washer is non-transferable, and for the owner to claim it, they will have to make the request in person and present the original receipt. However, if every aspect is respected, you should be able to get a replacement for the malfunctioning parts – or even a new unit.
What to Expect from Yard Force 1600 PSI All-in-1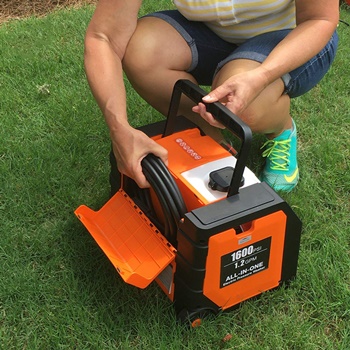 Overall, the Yard Force 1600 PSI All-in-1 is quite simple to use. First of all, there is barely any assembly – and all you have to do is push the two wand parts together until you hear the "click." Taking it apart is just as simple, as you will just have to twist and pull in the other direction. Once that is done, you may easily clean surfaces such as your car, your patio, and so on.
Pros
The unit is very easy to transport thanks to the storage compartments that make it so compact. Plus, compared to other units, it has a fairly low noise level – which is surprising, considering that this unit is so cheap.
Cons
Sometimes, you may have difficulties in placing the hose, cord, and accessories in the storage compartment, as it is quite small. People have also claimed problems in regard to the soap dispenser, as it does not work so well in low-pressure mode.
Final Thoughts
Despite the fact that it looks slightly bulky, this unit is quite convenient when it comes to pressure washing. It's compact, it's lightweight – and despite its size, it packs quite a lot of pressure. You should easily be able to get some light to medium-duty cleaning done, as you have seen in our Yard Force 1600 PSI All-in-1 review.