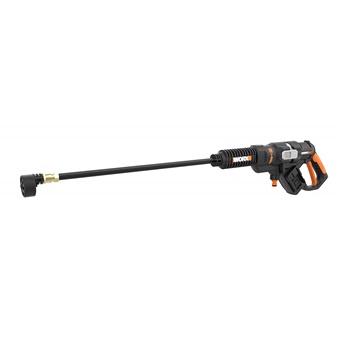 Finding a good pressure washer is not always easy, especially when they all seem bulky and difficult to use. However, certain manufacturers have taken this idea into consideration and made their units portable. In this WORX WG644 Hydroshot review, we will see exactly how useful this product is.
Highly rated by various users, this pressure washer should be of great use when it comes to light residential work. However, since every person has different needs, you must become familiar with its features.
WORX WG644 Hydroshot Specifications
Unlike most portable pressure washers that work on gas or through electric plugging, this one uses Lithium-Ion batteries with a 1Ah capacity for every 20-Volt battery. This will further ensure its portability, meaning that you won't have to worry even if you are carrying it in an area without an electric outlet.
This unit features an adjustable PSI setting – namely 450 PSI at its highest and 290 PSI at its lowest. You can also adjust the spray by choosing from different spray patterns: 0-degree, 15-degree, 25-degree, and 40-degree. All you have to do is choose the nozzle that fits your purpose the best.
Among small pressure units, this is one of the most lightweight models. At just a little under 7 lbs, this item is very easy to carry around – regardless of the distance that you have to go over. Since it is cordless, you will not be limited when it comes to space.
The maximum water flow rate of this unit is 0.9 GPM. While it may be smaller compared to other similar devices, it is still enough to get some basic cleaning done. The battery will take two hours to charge, and about 30 minutes or so until it is completely dried out. This will give you enough time to finish all your daily cleaning chores.
This unit may be used anytime, anywhere – regardless of the water source. You may pull water from a bucket, or you may connect it to a tap. This is actually why this unit is such a great option when you are dealing with remote cleaning tasks.
Customer Support and Warranty
According to previous users, customer support is responsive when it comes to addressing problems. You may contact them by phone or e-mail – and after the problem has been signaled, all you have to do is send it into service. Depending on the magnitude of the problem, you will either have the damaged part replaced, or you will get a new pressure washer altogether.
This unit features a 3-year limited warranty – and a 30-day guarantee that ensures you will get your money back if you are not happy with the product. The condition is that you use it for residential purpose only – because if you use it in commercial purposes, that warranty will be voided.
What to Expect from WORX WG644 Hydroshot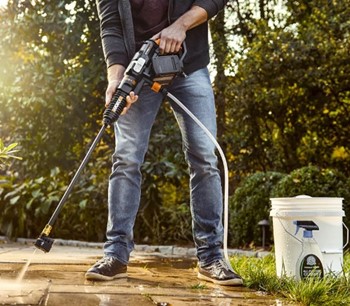 The WORX WG644 Hydroshot is very easy to use – and as long as you follow the user manual, it should not be very difficult to connect and get it started. The performance is also superior is you are looking for something to provide some light duty cleaning – but if the stains are particularly greasy or bad, it might take a long time until it shows results. Overall, this is what you may expect from this unit.
Pros
This unit is lightweight and compact compared to other similar models, and the cordless design allows you freedom of mobility. Plus, while it may have a low PSI, it is very efficient when it comes to dirt and mold.
Cons
It has difficulties in cleaning greasy spots and other medium-duty jobs. You will have to insist on them to get the job done. Plus, while the battery is generally long-lasting, it may run out fast if you use it at the highest PSI.
Final Thoughts
If you are looking for an efficient cordless small pressure washer, then this unit will certainly prove to be useful. It looks and feels like a toy gun – but one that you can use to give your home a deep clean. Hopefully, our WORX WG644 Hydroshot review has managed to bring some insight into the matter.