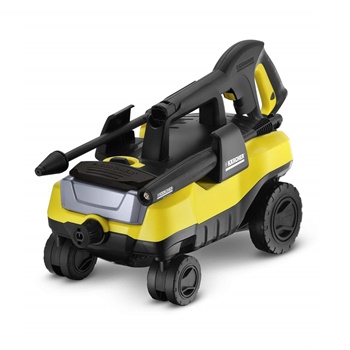 When it comes to pressure washers, Karcher can produce anything: from small pressure washers for your home to large units that can clean up an entire street. Our Karcher K3 Follow-Me review will follow a portable unit that is very popular for keeping homes clean.
Like the puppy that you didn't know you needed, the Karcher K3 Follow-Me will follow you all around the working area – just as long as you give it a nudge. Now it is time to find out whether this pressure washer is actually a suitable option for your purposes or not.
Karcher K3 Follow-Me Pressure Washer Specifications
The Karcher K3 Follow-Me small power washer is a very convenient and compact unit that can provide as much as 1800 PSI at a full 1.3 GPM. At first look, the output might not be that high – but it's actually all you need for your daily chores. Providing a total cleaning power of 2340, it can easily handle light-duty tasks as well as some medium-duty ones.
This unit was designed to be compact and simple to maneuver – which it actually is. Weighing only a little over 16.3 pounds, you'll barely feel it as you are pulling it around with you in your yard. Moreover, thanks to the fact that it has been mounted on 4 wheels, it brings an extra degree of stability as well.
The pressure washer has a 15 ft. high-pressure hose and a 35 ft. power cord – which means that you may cover around 7500 square feet with this small unit.
The Karcher K3 Follow-Me does not use the standard nozzles that you find in most pressure washers. Instead, it features two special wand attachments and a pressure regulator that will let you adjust the spray output. Thanks to this design, only Karcher pieces might be used as replacements.
This device features a Vario Power spray wand, which will easily allow you to adjust the spray coming from the wand. Moreover, the Dirtblaster spray wand can tackle even the hardest of jobs, finishing every cleaning job in at least half the time.
The unit in itself is very easy to set up – and if you take a look at the owner's manual, you'll see that it should not take more than a few minutes to get everything started. Once you have attached the pieces correctly, all it will take is the push of a button to get the unit going.
Customer Service and Warranty
Karcher has made it their target to become the company with the most reliable customer service that you could find. If your unit has malfunctioned, you have one of two choices: you may contact them by mail and have the unit sent into service, or you use their rapid exchange program in which you will receive a replacement.
The Karcher K3 Follow-Me unit features a 2-year limited warranty – but this will only apply to the pump and the engine. If you want to replace standard accessories and attachments, the warranty will only hold for 90 days.
What to Expect from the Karcher K3 Follow-Me Power Washer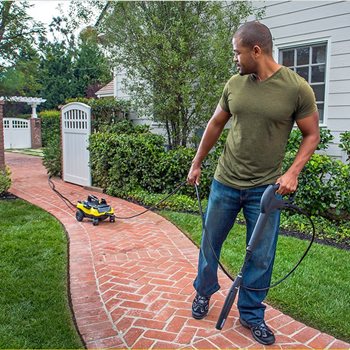 If you have checked our portable pressure washer buying guide, it means you want to find a small unit that will also be efficient in its task. With this model, you should be able to get rid of most types of grime, dirt, mold – and even rust. However, it may have troubles dealing with dried-out oil and difficult stains.
Pros
It's important to point out the many advantages of this product. First of all, you can find it for a very convenient price, so you won't have to spend all of your savings on it. Concurrently, it requires little maintenance for the most part. At the same time, it is not heavy, so it is easy to store and move wherever you need. If you were worried about the unit tipping over, you'll be happy to know it was created in such way to prevent that.
Cons
If you want to replace broken parts, the problem will be that only original Karcher pieces can be used. Leaks could also happen, as claimed by some reviewers.
Wrap Up
If you are looking for an affordable solution to get some quick cleaning done, then this pressure washer should be a good investment for you. It might not be good for heavy duty-jobs – but for standard home cleaning, it's just perfect. Hopefully, our Karcher K3 Follow-Me review has proven to be useful for you.