By introducing the best electric pressure washer to your cleaning regimen, you make sure that the things in your yard last longer, and look better. Pressure washing delivers just that. Some people are buying them for commercial purposes, whereas others are purchasing them for residential use.
To make it easier for you, there's a list with some electric pressure washer reviews, along with the buying guide to help you find the most suitable model. This way, you can make a calculated decision based on what others have already found to be useful. Let's dive in!
PRODUCT
DETAILS

Sun Joe SPX3000 Pressure Joe

Price: $
Customer Rating: 4.2
Weight: 31 pounds
Dimensions: 15.6 x 13.5 x 33.9 inches
Pressure: 2030 psi
GPM: 1.76 gallons
Cleaning Power: 3572
Warranty: 2 years

View On Amazon

AR Annovi Reverberi AR390SS Electric Pressure Washer

Price: $$
Customer Rating: 3.8
Weight: 35 pounds
Dimensions: 16 x 38 x 17 inches
Pressure: 2000 psi
GPM: 1.4 gallons
Cleaning Power: 2800
Warranty: 1 year

View On Amazon

Powerhouse International High Power Pressure Washer

Price: $$$
Customer Rating: 4.6
Weight: 32 pounds
Dimensions: 15 x 18 x 24 inches
Pressure: 3000 psi
GPM: 2.2 gallons
Cleaning Power: 6600
Warranty: 1 year

View On Amazon

Stanley SHP2150 Electric Pressure Washer with Spray Gun

Price: $$
Customer Rating: 4.1
Weight: 25.6 pounds
Dimensions: 14.6 x 13.6 x 26.8 inches
Pressure: 2150 psi
GPM: 1.4 gallons
Cleaning Power: 3010
Warranty: 2 years

View On Amazon

Sun Joe SPX3001 2030 PSI

Price: $$
Customer Rating: 4.2
Weight: 32 pounds
Dimensions: 14.4 x 16.5 x 33.5 inches
Pressure: 2030 psi
GPM: 1.76 gallons
Cleaning Power: 3572
Warranty: 2 years

View On Amazon

AR Blue Clean AR2N1 Electric Pressure Washer

Price: $$
Customer Rating: 4.5
Weight: 29 pounds
Dimensions: 22 x 15 x 14 inches
Pressure: 2050 psi
GPM: 1.4 gallons
Cleaning Power: 2870
Warranty: 1 year

View On Amazon

Homdox Electric High-Pressure Washer 3000PSI

Price: $
Customer Rating: 3.7
Weight: 17.8 pounds
Dimensions: 26.4 x 11.7 x 9.9 inches
Pressure: 3000 psi
GPM: 1.76 gallons
Cleaning Power: 5280
Warranty: 2 years

View On Amazon
Best Electric Pressure Washers Reviews
1. Sun Joe SPX3000 Pressure Joe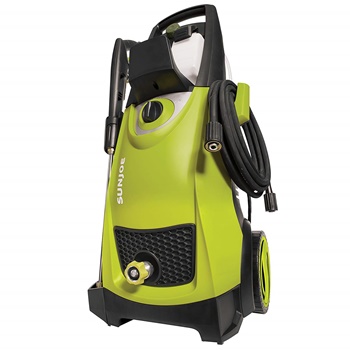 If you are shopping on a budget, but still want to buy a decent model, then this electric power washer should certainly make your shopping list. This unit can tackle any medium-duty chores with ease since it functions on 1.76 GPM and 2030 PSI.
Thanks to its 5 quick-connect nozzles, this unit is quite versatile. You can adjust them to clean any type of surface you want, from your car and fence to the porch and patio. It will also allow you to tackle more difficult stains due to its maximum temperature of 40 degrees Celsius – a task that will be further on improved by its two detergent tasks.
This unit also allows you to save energy thanks to its Total Stop System (TTS). When it senses that the trigger is no longer in use, it will automatically stop the system and shut off the pump. This will actually help preserve the life of the unit, as it will prevent the overheating of the pump.
Pros
Different quick-nozzle tips that make the unit versatile
Energy-saving design thanks to its TTS system
Very efficient for difficult stains thanks to its soap tanks and high-temperature setting
Cons
A regular hose will not work with this unit
Some parts, even if they are free, will have to be ordered separately from the manufacturer
Read more: Sun Joe SPX3000
2. AR Annovi Reverberi AR390SS Electric Pressure Washer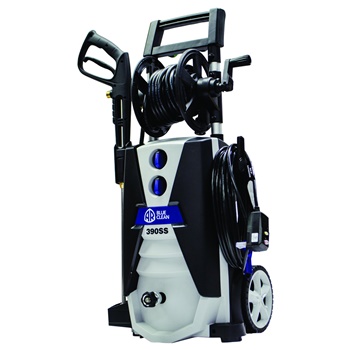 If you are looking for something efficient for home use, then this device should definitely prove useful to you. At 2000 PSI, this electric power washer can easily get a medium-duty job done in just a matter of minutes. Compared to other similar pressure washers, this unit will give you around 45% more power.
This model comes with 4 different nozzle tips – among which you can find a rotary turbo nozzle. Thanks to this nozzle, you should be able to increase the rotation speed to up to 3000 RPM. As a result, once the water hits the surface, it will immediately clean the grime and dirt on the surface.
This unit features a 1.4 GPM – which means that you can save up to 80% of the water used. It does not use as much water as other similar models – but the cleaning power of this unit is powerful enough to even get a more difficult job done.
Pros
The water-saving design allows you to save water up to 80%
The turbo rotation nozzle allows you to tackle even the more difficult stains
It provides 45% more pressure compared to other models
Cons
The hose reel is rather flimsy
Its design makes it very easy to tip over
Read more: AR390SS
3. Powerhouse International High Power Pressure Washer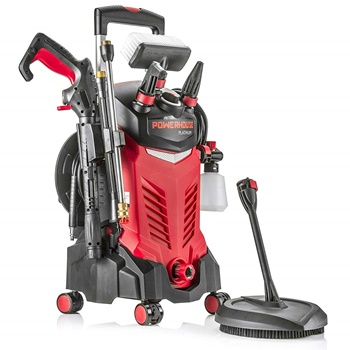 This unit certainly lives up to its name, both when it comes to the performance and its looks. Featuring a red-platinum finish and a 4-wheel design, this power washer looks fancy, and it is portable. Considering that it only weighs 32 pounds, it is not very difficult to move around either.
Inside the unit, you have a very quiet motor that can exert as much as 3000 PM at 2.2 GPM. This means that this device can be used for both medium-duty jobs and heavy-duty ones.
Inside the box, you will get four quick-connect nozzle tips, going from 0 degrees to 40 degrees. Aside from those, you will get a soap tip which you may use to tackle the more difficult stains, an extendable universal spray gun, a pair of special brushes, and a foam sprayer.
Pros
This is the most powerful electric pressure washer in our list
It is very easy to transport thanks to its 4 caster wheels
It comes with quite a large number of accessories
The spray wand allows you to reach difficult corners
Cons
The soap module is relatively small
The wheels are also very small
Read more: Powerhouse International
4. Stanley SHP2150 Electric Pressure Washer with Spray Gun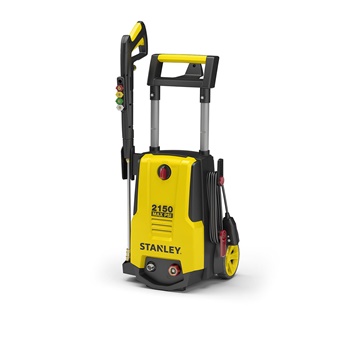 Those who need a fairly strong pressure washer that can easily handle medium-difficulty jobs – and maybe some of the harder ones as well – might appreciate this unit. With 2150 PSI and a 1.4 GPM, it offers a very high cleaning power that can handle fairly much any kind of stain. It is perfect if you have sidings, pavement, garden furniture, trucks, or other similar units to clean.
This unit brings cleaning to another level thanks to its high-pressure foamer as well. This detergent bottle has been specially designed to release foam at high pressure – allowing you to get rid even of the more troublesome stains.
This pressure washer comes with all the standard accessories, as well as an o-ring replacement kit. Plus, it features a 2-year limited warranty that will cover you in the event that the unit malfunctions. However, this rarely proves to be the case, since the leakproof connections are generally very sturdy.
Pros
Very powerful pressure for a corded pressure washer
The detergent bottle allows you to tackle even the more difficult stains
The leakproof connections make the unit very durable
Cons
While the connection is leakproof once set, you do have to be very careful when attaching it
The trigger needs to be carefully handled if you don't want to lose pressure
Read more: Stanley SHP2150
5. Sun Joe SPX3001 2030 PSI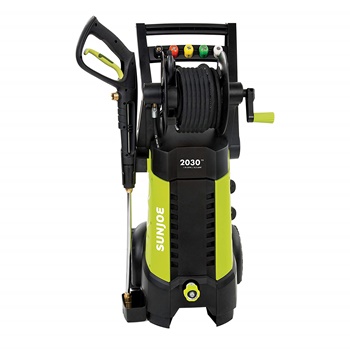 There's a fairly good reason why Sun Joe keeps appearing as a top seller for electric pressure washers – and that is because the machines they produce are of the highest quality. The predecessor of the SPX3001 had great success – which means they had to make this unit even better.
With 2030 PSI at 1.76 GPM and a 1.2 Liters detergent tank, this unit is perfect for removing the dirt from practically any kind of surface. Plus, you may adjust the pressure of this unit with the Pressure Select Technology. This way, you can use it to clean anything from windows to trucks, cars, fences, and anything else that might be in need of some cleaning.
This pressure washer is incredibly easy to maneuver. At 32 pounds, it might not be the most lightweight model – but thanks to the rear wheels and the 34-inch extension wand, you may reach your "target" easily. And you may do this without continuously carrying and moving the unit.
Pros
The powerful motor makes it perfect for tackling all types of stains
The detergent tank will give you an extra kick in the cleaning task
The unit was made to be easily portable
Cons
The hose adapter is rather sensible
It might take a fair amount of time until it reaches maximum PSI
Read more: Sun Joe SPX3001
6. AR Blue Clean AR2N1 Electric Pressure Washer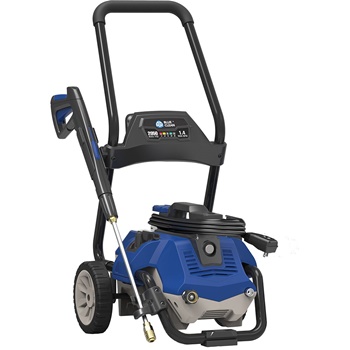 If you are looking for an easy to maneuver pressure washer, then this model will certainly be down your alley. At 29 pounds, this is fairly lightweight compared to other electric units – but at the same time, it is very powerful. You can easily use it to clean any kind of surface that you might have.
Many people prefer using this unit mainly because it is very easy to operate. All it takes is the push of a button in order to operate the device – and before you know it, you can already start cleaning while using the machine. To protect yourself and the electric pressure washer, you also have a TTS (Total Stop System) that will prevent the motor from overheating.
This washer comes with a fair number of accessories. You have the standard quick connect nozzles (0, 15, 25 degrees and soap), along with a rotary nozzle, a 25-inch high-pressure hose, a removable detergent tank, and a garden hose adapter. The unit is versatile – and especially useful when it comes to dealing with residential chores.
Pros
TTS system not only protects you but also prolongs the longevity of the system
It includes a variety of useful accessories
It is lightweight and portable compared to other electric models
It is very quiet compared to other units
Cons
It is prone to corrosion
Some customers claim that the product arrived with missing pieces
Read more: AR Blue Clean AR2N1
7. Homdox Electric High-Pressure Washer 3000PSI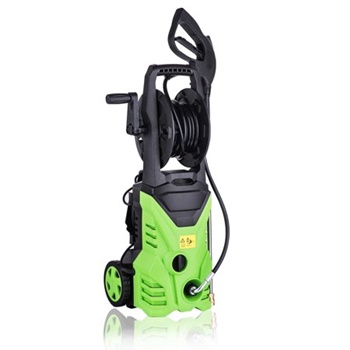 For many people, this is considered to be the jackpot of pressure washers. Not only is it lightweight, but it is also extremely compact. This is an impressive feature, considering that this device delivers a power of 3000 PSI at 1.76 GPM. With such a small unit, you can easily clean away the grime and dirt from any surface.
Since the temperature is adjustable, you can use this item to tackle the more difficult stains as well. Since you can raise it until 40 degrees Celsius, you can clean oily stains much faster – particularly if you make use of the soap applicator. You can also adjust the pressure of the unit in whichever manner you want.
Different surfaces will need a different type of spray – which is why the 5 interchangeable spray nozzles are so useful. The higher the inch number, the easier it will be for you to clean a more sensitive surface without damaging it.
Pros
It is extremely lightweight for the power that it offers
It is considerably quiet when compared to the average electric pressure washer
Robust, with a fair number of extras
Cons
Still requires some assembly upon arrival
The reel handle is rather sensitive
Read more: Homdox Electric 3000PSI
What Is an Electric Pressure Washer?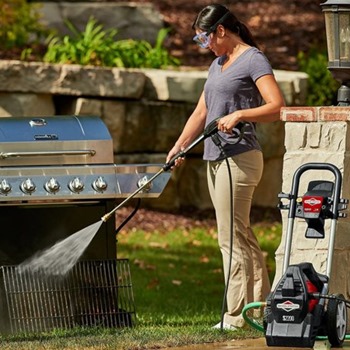 When cleaning their cars, fences, outdoor gear, and so on, many people use a standard garden hose connected to a water source to get things done. However, the problem is that a regular garden hose might not have the pressure necessary to clean the more difficult stains.
On the other hand, electric pressure washers have the ability to provide several times the power of a regular water hose. This way, you can remove even the more stubborn of stains without having to spend long hours scrubbing any stains. The pressured water will do all the "scrubbing" for you.
Simply put, an electric pressure washer is a unit that will draw power from an electrical outlet. This way, since it will be drawing power continuously, you will not have to replace any fuel or anything in order to keep it going (like you would with a gas-powered washer, for example).
For many people, an electric pressure washer is one of the most useful units when it comes to taking out the grime around the house – particularly the dirt on the car. However, with a proper-length cord, an electric pressure washer is a device that can be pulled anywhere in the garden and be used to clean any item or surface, excluding the things that never to be cleaned with a pressure washer.
How Do Electric Pressure Washers Work?
When it comes to pressure washers, it is important to note that each electric unit is different and comes with diverse features. However, the most important thing to remember is that the pump is driven by electricity. This means that once connected to the power supply, the device will draw power – and all that it takes is generally the press of a button to get the unit going.
An electric cleaner will also use the motor in order to power up the pump. Their motor will be described by the amps and watts – which will give the unit the energy that it needs. This will activate the pump and will trigger the motion of several different factors.
When it comes to understanding how a pressure washer works, there are two critical ratings that you need to understand: the PSI and the GPM. Based on these two, you may find out the CP. You may check our homepage for more details regarding these terms – but overall, this is what they all entail:
GPM – GPM stands for gallons per minute, and it signifies the flow rate. The higher the flow rate, the easier it will be for a pressure washer to get rid of a particular stain. A professional will generally buy a machine with a high GPM so that they can finish more than one job per day.
PSI – Standing for pounds per square inch, this is the actual pressure that the pressure washer delivers. Most electric units deliver around 1000-3500 pressure – and this force will actually push away any stubborn stain that you may have on a hard surface.
CP – The "Cleaning Power" is the result between the multiplication of the GPM and the PSI. It is the description of the actual cleaning power of the entire unit.
By understanding how the GPM and the PSI work, you will also see how a particular pressure washer works. Simply put, when connected to the power source, the pump will be activated for the PSI and GPM setting that you chose. This will deliver pressured water so that you may get the job done flawlessly.
Are Electric Pressure Washers Better Than Gas?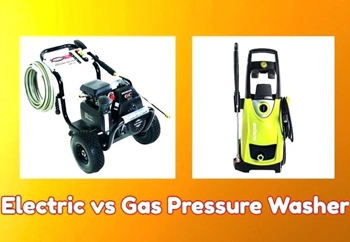 Some people will say that electric washers are the best, whereas others will claim that gas models are the greatest that they could get. Still, this will depend on how you plan on using the unit – and it is also a matter of convenience.
For instance, gas units have a much higher PSI and GPM, making most units suitable even for commercial use. They are also cordless, making them a good option if you plan to take the work far from any electrical source.
However, the problem with these units is that they are quite expensive and are very heavy (due to the fuel tank). Plus, since a top rated commercial pressure washer is suitable for heavy-duty usage, it might not be as appropriate for some items of residential use.
On the other hand, electric power washers do not have such high PSI and GPM like gas units do – but they have more than enough power for standard cleaning jobs (e.g. cleaning a car, a garage floor, a driveway, etc.). They are also less expensive, and they do not weigh as much – simply because you do not have any fuel tanks to worry about.
Due to the fact that they are cheaper and easier to transport compared to gas units – all while delivering great power – electric washers are certainly better. You should only go for a gas unit if you plan to take the cleaning on a commercial level – but even in that case, you can find an electric unit with a high PSI. However, if you are interested in gas units, then you may want to read our guide for the best gas pressure washers as well.
What Makes Electric Pressure Washers Powerful?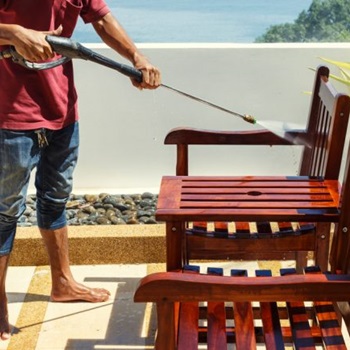 By simply talking about cleaning power, gallons per minute and pounds per square inch, we will not completely understand what exactly makes these units so powerful. They're just numbers – especially for the average user of electric pressure washers. High digits are important, but there is more to it than that.
1. The Motor
The first thing that makes an electric pressure washer so powerful is its motor. This is responsible for powering up the water pump – and basically, setting the water flow in motion. It is what keeps the liquid circulation going, giving you that pressure that you need in order to keep the unit clean.
An advantage of electric power washers is that their motor is lightweight and compact. Compared to gas units that you have to haul across the yard, these are actually a convenient option. In this case, the "power" goes into the ease of transportation – which we all appreciate.
2. The Engineering
One more thing that makes these electric pressure washers so efficient is the way in which they were engineered. To be more specific, it is all about the way in which power is used.
For instance, you may have a unit with the highest PSI on the market – but if you do not use that power to its maximum water flow potential, then all efforts are futile. This is particularly where every washer model tends to be different.
Electric pressure washers are also built different compared to gas units. Since the PSI and GPM are smaller than those in gas models, they tend to focus on engineering more – therefore, increasing their power. This is why these units tend to be powerful and very precise.
3. The Extras
Besides the raw power, there are several other factors that can make an electric power washer so efficient. For instance, the quality of the spray gun, the type of pressure hose, the power adjustment – and practically, every other component of the unit can be a determining factor.
These are just a few things that can make a pressure washer more powerful – or weaker, depending on what you are looking for. So, if you are searching for something to get some medium-duty cleaning done, an electric pressure washer is more than enough.
Electric Pressure Washer Buying Guide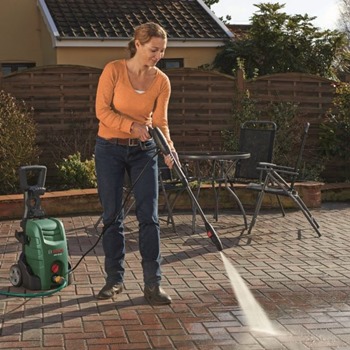 When it comes to pressure washers, there are certain features that you might want to keep in mind before making a purchase. This way, you will ensure that the unit you get is appropriate for your purposes.
1. Engine
While electric pressure washers may not have the Honda engines that you can find on a gas unit, this does not mean that they don't have a motor. In fact, the motor of an electric device will be rated with Amps and Watts.
Generally speaking, the higher those numbers, the more power it will produce in the pump. Granted, more power may also mean that the motor will produce more noise – but at the same time, it will mean a higher PSI and GPM. This is something to be considered if you are planning to tackle a medium to heavy-duty tank.
2. Portability
How portable is the unit that you are attempting to purchase? If the pressure washer is too heavy, you might not be able to carry it from one place to another – and it might beat the purpose of buying an electric unit in the first place. The best portable pressure washers are, in most cases, electric power washers.
At the same time, you might look for portability-assistants. If the unit has wheels, it will be much easier for you to transport it. You may want to search for an item that has bigger (and preferably thicker) wheels, as it will be much easier for you to pull it over mud or bumps in the lawn. If you go for smaller wheels, the unit might be less heavy and bulky – but you'll only be able to carry it across straight areas.
Similarly, also look for units that have handles. This way, you may be able to carry it in your hands when the surface does not allow you to use wheels. You might also want to look for padded handles, as it will be much easier for you to carry if you have to take it across a longer distance.
3. Water Temperature
When purchasing an electric pressure washer, you have a decision to make: do you need something that works with cold water, or would something with hot water pressure be the more appropriate solution? While it might be tempting to choose the hot water pressure unit as the "higher quality one," it is not always necessary.
The choice is based on the type of stain that you are dealing with on a daily basis. For instance, if the surface is covered in oils or any other kind of stubborn stains, then a cold pressure washer may not be able to break down all that grease.
Think about when you are washing the dishes. When you are using cold water on greasy plates, you tend to overuse dish soap in order to get rid of the stains. However, if you crank up the hot water, you notice that the grease tends to go off a little easier – with the help of a little soap. This means that not only are you able to finish the job easier, but you also do it by using a minimal amount of water.
These are the instances when you might need a hot water pressure unit – to eliminate the stubborn greasy stains out of various surfaces. These usually tend to gather on the floor of the garage, and the hot water jet will allow the grease to break down, leaving the surface clean. The only issue here is that since these power washers use extra electricity to warm up the water, they tend to add more on the electricity bill.
If you do not have any greasy stains to deal with, then a cold water pressure washer should be more than enough to do some deep cleaning. For instance, if you are handling just dirt, dust, and stains that do not have any oily sources, the pressure of the cold water jet should be enough to take the stains out. If it's not as simple as that, then you may have to go for an electric pressure washer that uses hot water.
4. Power Adjustability
Depending on the unit, you might want to go for something that has adjustable power. For instance, while a unit may say that it has "maximum 2000 PSI," that sort of pressure will not work with every surface. Indeed, while it might be helpful when it comes to concrete and driveways, it might not be such a good solution for decks and surfaces that use softwood.
For this reason, you might want to go for a unit that has a power-adjustability setting. By lowering the PSI, you will be able to tackle more types of stains, regardless of the surface. You will not have to buy a different power washer in order to clean different-sensitivity surfaces.
5. Soap Tank
To soap or not to soap – that is the question. When you have difficult stains to handle, then a soap tank might be very helpful. Most of the time, units that have different water temperature settings will also have a soap tank. This is mainly because it is assumed that these units will be used to clean greasy stains. And when greasy stains are involved, you will most likely need a soap tank.
6. Hose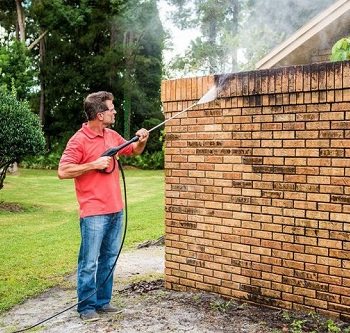 The most important part of a quality pressure washer (that is very often overlooked) is a well-made hose. You may have a high-rated pressure washer with incredible PSI and high GPM – but if the hose cannot handle that kind of pressure, then it is all for nothing. This is why you have to ensure that your hose can withstand such force.
Normally, pressure washer hoses are made from several layers – and more often than not, they will have some sort or wiring network that will make them even stronger.
Bear in mind that the length of the hose should also be considered. Granted, you might be tempted to get a longer hose – but in some cases, longer is not always better. In most cases, the longer the hose is, the more you will need to bump up the pressure. For this reason, the optimal recommended length is around 15 and 25 feet.
7. Pump
When you get a pressure washer, you also need to be careful about the pump of your unit. Without a good pump, the device may not be able to provide the pressure that you need.
7.1. Wobble plate pump
This type of entry-level pump will use a wobble plate that has been connected to the drive shaft. These will push the pistons back and forth – creating enough suction to push out the water. Generally, they are used for pressure washers with a PSI below 2500 and a flow rate lower than 2 GPM.
7.2. Swashplate pump
Also referred to as Axial Cam pump, this intermediate-level pump will provide greater advantages compared to the wobble plate pumps. They are great for washers under 3500 PSI and can also pump for about 500-800 hours – which is about two or three times the lifespan of a wobble pump.
 7.3. Triplex plunger pumps
These pumps are generally used for professional units – which is why you do not commonly see them in electric pressure washers. However, you may find this kind of pump in pressure washers that deliver more than 3000 PSI. They deliver quite a lot of pressure, which is why you will find them to be very efficient for heavy-duty tasks.
8. Spray Nozzles
Each pressure washer may come with a number of nozzles. These nozzles are sold in standard sets, with a maximum of five nozzles in total.
8.1. The 0-degree nozzle
This nozzle has the strongest cleaning power of all attachments. Since it features such a small jet degree, the water is streamed from a single line and it's delivered at full force. It is not the kind of nozzle you will want to use on a sensitive surface.
8.2. The 15-degree nozzle
If you require cleaning speed and power, the width of this nozzle is exactly what you need in order to clean surfaces such as metal or concrete. Bear in mind that if you use a washer with a high PSI, then you might damage surfaces made from wood.
8.3. The 25-degree nozzle
This is likely among the most versatile when it comes to spray nozzles, as it can offer quite a lot of power – but without damaging surfaces such as metal or wood. Thanks to its widespread, this nozzle may easily be used to clean surfaces such as your porch, your deck, and so on.
8.4. The 40-degree nozzle
A nozzle that is not always provided on every set, this can be used if you have to cover a very wide area in a short amount of time. Bear in mind that even if your pressure washer has a high PSI, you may not be able to get a full blast with this item.
8.5. The soap nozzle
This nozzle has the smallest cleaning power among all nozzles – but this is because its task is different. This nozzle's job is to spread detergent efficiently so that nothing is lost. Once the detergent soaks up the stain, you will use a different nozzle to remove the soap.
You can also check this nozzle chart to get more knowledge about this topic.
9. Noise Level
Yes, the chances are very high that you will be washing outdoor surfaces. So, unless you are particularly keen on having your neighbors yell at you, then you will need something with a very low noise level.
Generally speaking, electric power washers are by standard very quiet – but the high PSI ones might be particularly noisy when you crank up the power. If you are concerned about the noise, you should buy something that has an adjustability setting.
10. Warranty
Not everyone bothers about the warranty – but it is something that you should consider. The average warranty is one year – but in some cases, you may also find 2-year warranties or longer. Needless to say, the longer the warranty, the better.
How to Set Up an Electric Pressure Washer
In most cases, people agree that an electric pressure washer is easier to set up compared to a gas model. Also, electric pressure washers are easier to be fixed after they are broken.
In essence, electric pressure washers can be used both outdoors and indoors, whereas the gas units can only be used outdoors (because of the gas emissions). Before you start the cleaning session, it mandatory that you follow the rules for proper setup. This way, you can undergo your cleaning tasks safely. In regard to electric units, here is what you have to do:
1. Connect the High-Pressure Hose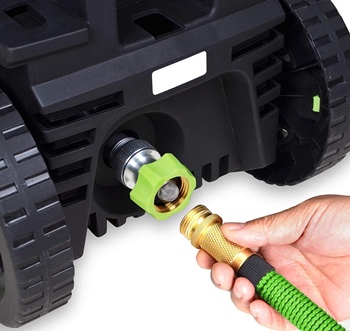 First things first – you will have to connect the high-pressure hose that accompanies the pressure washer. Locate the high-pressure inlet and insert the hose there. You usually find it either next to or on top of the water inlet. Once the hose is in, tighten and secure it.
2. Connect the Garden Hose
Once you have connected the high-pressure hose, you have to connect the garden hose as well. Tread the coupler link onto the garden hose and insert it into the pressure washer. Do not forget to tighten it as well.
3. Set the Spray Gun
Once the hoses have been attached, it is time for you to attach the wand (or extension lance) to the spray gun. To lock the wand into its place, you need to twist it – until it no longer twists anymore. Many wands have different interchangeable tips (also referred to as nozzles) that will provide a different pattern or spray volume.
4. Connect to the Power Source
Everything has been safely set into place – now, all that is left for you to do is to connect the pressure washer to the power outlet. Ideally, you should run the cord on a GFCI (Ground Fault Circuit Interrupter), which will light up once connected. This way, it will indicate that your power washer is getting power at that moment.
5. Turn on the Water Faucet
Do not turn on the pressure washer without turning on the water faucet. If you don't have a sufficient water supply, you may end up damaging the pump – which is the last thing that you want. Make sure that your unit has a place nearby to draw water from.
6. Turn the Washer On
The last and most obvious step at this point would be to turn the pressure washer on. This is usually done by pressing the "ON" button on the unit. When you pull the trigger of the spray gun, the unit will deliver water jets at full power. Once you release that trigger, the water jet will pause.
Setting up an electric pressure washer is quite easy when compared to setting up a gas unit. In this case, you do not have fuel to add, nor do you have oils to change. You just connect the hoses, plug the device, and turn it on. It's a great option for those who want to pressure-wash their items – but do not want the hassle involved with gas units.
FAQ About Electric Pressure Washers
When electric pressure washers are involved, there are some questions that you might have regarding their use. Here are some of the most frequent questions that users tend to ask:
1. Can I Use Warm/Hot Water with My Electric Pressure Washer?
Some units may allow you to do this, whereas others may not. This is why you need to be careful when it comes to reading the instructions. In most cases, you will not be required to use warm water directly from the hose – but the pressure washer will be the one to warm it up. Ideally, if you want to get a pressure washer that uses warm water, look for units that will warm up the water for you.
2. Can I Use Any Kind of Soap on My Pressure Washer?
The answer to this question also depends. For instance, some brands may have their own soap that they recommend you should use, whereas others allow you to use universal detergent for your item.
What's certain is that you have to use liquid soap with the unit. Using soluble detergent might seem safe once it melts in the water – but there is also the chance that it may not melt completely. If this happens, the detergent may clog the pressure washer, which will limit its performance.
The same thing applies to gel-based detergents, as their thickness might clog the unit. Simply look for detergents that are marked as pressure washer safe.
3. What PSI Is Safe for Washing My Car?
When it comes to washing your car, experts recommend that you use a setting of 1200-1900 PSI, along with a 1.4-1.6 GPM. Any setting between those numbers should be safe – so, choose the pressure based on how dirty your car is.
Bear in mind that the more sensitive a surface is, the more careful you will have to be. For instance, if the car (and subsequently, paint) is old, then something with a lower pressure might be more recommended. If your car paint is already chipping off, there is a high chance that a high-pressure power washer will only deal more damage to your vehicle.
4. Can I Use a Standard Hose on an Electric Pressure Washer?
This will depend on the manufacturer of the pressure washer. While some of them allow you to use regular hoses on a pressure washer, others may require that you use a special hose that can withstand its pressure. In most cases, a standard hose will not be able to withstand the pressure that power washers generally involve.
Bear in mind that while some pressure washers accept the use of regular hoses, you must make sure that the attachments are not an issue. Before buying a hose, you need to ensure that your brand of the pressure washer is compatible with the attachments of that hose.
5. Are Electric Pressure Washers Loud Compared to Gas Washers?
No. In most cases, an electric pressure washer is quieter compared to gas devices. This is because gas-powered devices have a higher cleaning power meant for professional use – which will also make them noisier.
On the other hand, electric pressure washers will have a smaller cleaning power – which means there will be less noise. That is to say, this does not mean that it will be completely noise-free; after all, every electric motor will create a hum.
The difference between the two is that while gas units can be noisy, an electric one will only create just a noticeable hum. With this kind of noise, you can easily hold a conversation on top of your pressure cleaning – without having to yell over the noise.
6. How Often Should I Pressure Wash My House?
This will depend on your home – and the speed at which dirt gathers around and in your home. For example, some homeowners feel that it is necessary they pressure-wash their house and garden every few months – but a general rule of thumb is that you do so at least once a year.
Certain circumstances might warrant that you do it more often, with additional cleaning – but once more, this will depend on how quickly the dirt and grime gathers. More often than not, a simple look at your house will tell you whether it's time to take out the pressure washer and start cleaning or not.
7. How Do I Clean My Deck with a Pressure Washer?
To clean your deck with a pressure washer, you first have to remove every item from your deck – particularly those that are breakable. Sweep away any loose debris on your deck, as this will help you see the stains better.
If the deck is deeply soiled, you might want to apply a deck cleaner to loosen the dirt that has embedded. On the power washer, you might want to use a soap dispensing nozzle and a stiff scrub brush.
You should choose the pressure of the unit based on the wood on your deck. For example, while a maximum of 1,200 PSI should be safe for hardwood, you should not go higher than 600 PSI when it comes to softwood. You might end up damaging the deck.
Wrap Up
Electric pressure washers are very useful to have around the house – particularly when you have some annoying stains that will not go away. Instead of scrubbing for hours at a time on your car, deck, or patio, it's easier to just take out the best electric pressure washer and get the job done in just a couple of minutes.
Hopefully, our electric pressure washer reviews proved informative for you. They all have different features and qualities – so, at this point, it is just up to you to decide exactly what you need. Make sure that you are investing in the right features.