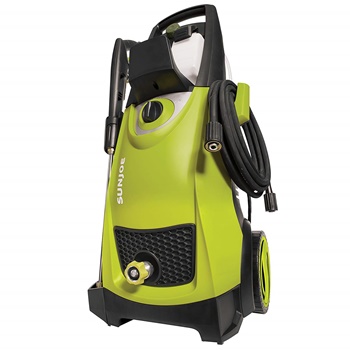 When it comes to pressure washers, one cannot deny the reason why Sun Joe is the leading manufacturer for residential units. There are various models that are great for this purpose precisely – but one model, in particular, has gained quite a lot of attention. For this reason, we have decided to come up with this Sun Joe SPX3000 review.
It can sometimes be quite difficult to determine whether a particular unit suits your purposes or not. That's why you need to be as informed as possible. Before buying, you should make sure that you understand all the specifications.
Sun Joe SPX3000 Pressure Joe Specifications
This unit is an electric pressure washer, which means that all the fuel it will need is the energy coming from an electric outlet. Plug it in, turn it on, pull the trigger, and that's it. With its ability to provide 2030 PSI at 1.76 GPM, it can reach a total cleaning power of 3573 – which is quite impressive. Regardless of the surface that you are planning on cleaning, the unit may turn out to be quite impressive.
Among other electric pressure washers, this device manages to surprise through its modern and beautiful design. At 31 pounds, the electric unit is very compact and may easily be carried around. Plus, since it has been equipped with wheels, you can roll it around with you whenever you have a cleaning task at hand.
The unit comes with a 34-inch extension wand that you may use to reach awkward areas and corners – and even sidings. You also have a quick selection dial that you may use to choose between the two detergent tanks. This is very useful if you want to use two different cleaning agents – but you don't want to spend a lot of time changing between them.
You will have to do some light assembly when you receive the pressure washer. However, if you take a look at the operator's manual, you should be able to do it quite easily. Once the unit has been assembled, you may immediately begin cleaning, as it will arrive with everything you might need – including the high-pressure hose and the quick-connect spray tips.
This pressure washer has been equipped with a TTS system – meaning that if you don't press the trigger for a prolonged time while the pump is running, the system will shut the unit off. Not only that this will save you energy, but it will also prolong the life of your unit's pump and engine.
Customer Support and Warranty
According to previous users, Sun Joe is very quick in responding to the requests of its customers. If you are missing a part, or a piece gets damaged under the warranty, they will replace it immediately. Moreover, if the problem is even bigger, they will be more than happy to send a replacement.
The warranty for this pressure washer is average – namely, 2 years limited. This only applies in the event that the unit is used for residential purposes. If it's used for commercial ones, then the warranty is more than likely to be voided.
What Can You Expect from Sun Joe SPX3000 Pressure Joe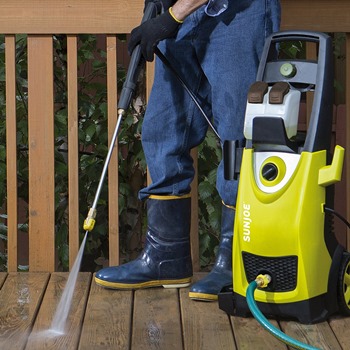 This pressure washer may easily allow you to tackle medium-duty tasks around the house, including grime, dirt, mildew, oil, tar, moss, and even rust. Plus, if you are using it during the season, it can also remove pine needles and cones. It's perfect for cleaning anything from your car to your grill, stair, patio furniture, and so on.
Pros
Since this pressure washer is very lightweight, it may easily be moved around from one place to another. The brass fitting is also of high quality, so it is not likely to leak. However, the most attractive part about this unit is that it is also budget-friendly.
Cons
Since it is regarded as a medium-duty unit, this pressure washer cannot be used for prolonged times. Plus, you do not have the option of controlling the pressure output.
Final Thoughts
Cleaning preferences may change from one person to another. However, according to popular opinion, Sun Joe can do a fairly good job of keeping things clean. Hopefully, our Sun Joe SPX3000 review has been successful in helping you make a calculated decision.