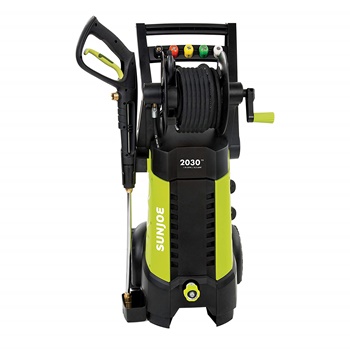 Sun Joe has made a great name for itself when it comes to electric pressure washers – and it shows. Since it has been producing quality units for many years now, everyone prefers this brand over any other. To see exactly what it can do, we have prepared a Sun Joe SPX3001 review for you to analyze.
Packing a great pressure power into a conveniently compact form, this is the type of unit that you want to have around the house for your seasonal cleaning. With the ability to tackle even difficult stains, your home should be clean in just a matter of minutes.
Sun Joe SPX3001 Specifications
When talking about the specifications of a pressure washer, the first thing that should come to mind is power. Packing a 14.5Amp/1800Watt motor, this unit can deliver as much as2030 PSI at 1.76 GPM. Because of this, the unit falls under the "medium-duty power washers" category.
This is one of the electric power washers that features a design that looks very modern and simple – with a slim frame and green-colored parts. The unit weighs around 36 pounds – but while it might not be the most lightweight among electric pressure washers, it is still fairly portable. This is thanks to the two plastic wheels that have been installed so that you may roll it around with you.
This unit is also very easy to use – and if you consult the owner's manual, you will see that it is not actually that difficult to set up. By attaching the 34-inch long extension wand, you should be able to easily reach through difficult places. Plus, the 20-feet high-pressure hose can cover a lot of ground, offering you decent maneuverability. This is further on emphasized by the 35-feet electrical cord.
This unit is not only economic but safe as well. Featuring a TSS (Total Stop System), this unit will stop supplying water once you let go of the handle. It will break the water flow, preserving water and power – and ultimately, holding onto the life of your pump.
This unit comes with all the accessories that you might expect from a quality pressure washer. It features four differently angled quick-connect nozzles that you choose based on what exactly you are planning to clean. For example, if your plan is to clean concrete, then you should use the 0-degree nozzle. If you have to clean softwood, then the 40-degree nozzle might be more suitable for that.
You also have a soap tip that you may use when you have difficult stains. Together with the 40.6 oz. detergent tank, this unit packs quite a fair cleaning power.
Last but not least, this unit features an onboard reel that will keep your unit neatly organized. This way, you will not have to worry about the high-pressure hose or electric cords sprawling everywhere as you are trying to store it.
Customer Support and Warranty
The customer support for this pressure washer can be contacted at all times, and you will receive replacements for any malfunctioning parts – as long as you are under the warranty. The warranty is valid for two years, with every standard replacement – but you will have to register the unit upon purchase to reap the benefits.
What to Expect from the Sun Joe SPX3001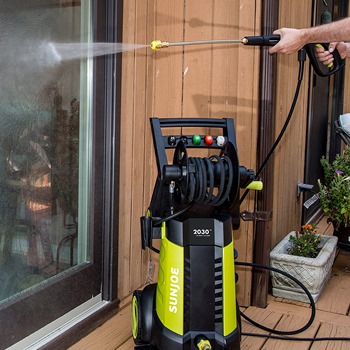 This pressure washer has the ability to handle many kinds of dirt, as long as the stains are medium-duty, so to speak. It could handle some heavy-duty stains, but you might want to have a more powerful device for that. When it comes to seasonal washing of your outdoors – and maybe even some indoor areas – this unit will prove to be quite useful.
Pros
Perhaps the greatest aspect of this unit is its mobility. You can easily roll it around whenever you want. It is also extremely versatile, as it can cover a variety of surfaces.
Cons
While this device is strong, it still cannot handle heavy-duty work. It is more suitable for light to medium-duty tasks.
Wrap Up
The demands can vary for every person – however, in most cases, this unit has proven to be very useful around the yard. It is well-made, and it can certainly withstand medium-duty work with ease. Hopefully, our Sun Joe SPX3001 review has managed to provide all the information that you need.