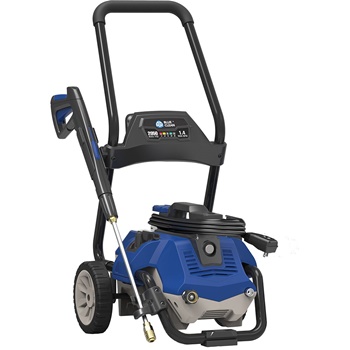 AR (or Annovi Reverberi) is a brand that has been focusing on their pump innovation for more than 50 years – and to this day, their focus still remains on quality units. Their first pressure device was designed in the late 70s – and with that, they created more and more quality units. That being said, we have prepared an unbiased AR Blue Clean AR2N1 review to see exactly what you may expect from this product.
With many positive reviewers swearing high and low for its quality, it seems like it is a model worth investing in. However, since every person has their own needs and preferences, you must be aware of all the features before making an order of the product.
AR Blue Clean AR2N1 Specifications
This pressure washer was designed as a cart so that you may carry it around at ease whenever you have a cleaning task or two to undergo. You may use it anywhere you want, just as long as you have an electrical outlet and a garden hose connected to a water supply nearby. Installation is smooth, particularly if you read the product manual.
This unit can be included in the category of "medium-duty power washers," due to the fact that it can exert up to 2050 PSI at 1.4 GPM. That being said, with all that power, the unit remains fairly quiet. It is a great option to use if you have neighbors easily bothered by the noise.
Like many modern electric devices, this one features a Total Stop System (TSS), which will cut off the water flow when you release the trigger. This way, you will not be using more water and energy than you are supposed to – and you will also preserve the life of your pump.
Unlike other electric pressure washers, this one features a rotary turbo nozzle. You will get a 0-degree rotating spray that will deep-clean every nook and cranny of a hard surface. To ensure that you do not damage the surface, you might want to test it in an inconspicuous place first.
Other than that, you get a fair number of accessories as well. You get the standard nozzles – from 0 to 26 degrees – as well as a 65-degree black one that is designed for soap. You also have a 48-ounce detergent tank that is very easy to clean and fill, taking out the need for messy buckets and soap-buckets.
Customer Support and Warranty
AR is very popular among clients due to the fact that they actually listen to customer feedback. In this respect, they have multiple channels where they make sure that you only get the best support. Therefore, whenever a customer mentions an issue with the product, they will be working fast to fixing it or having it replaced.
That being said, if your unit gets damaged and you want the parts replaced, you need to ensure that you are still under warranty. With AR, you will receive a 1-year limited warranty that will protect your investment against manufacturing defects. Plus, even if your warranty expires, you still get lifetime factory support.
What to Expect from the AR Blue Clean AR2N1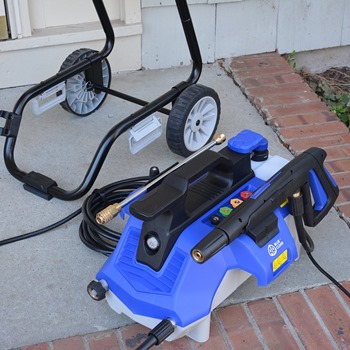 According to various users, the AR Blue Clean AR2N1 is a versatile pressure washer that you can use for fairly much any outdoor job that you may have. It is fairly easy to set up – taking no more than a few minutes – and you can easily use it to clean your car, your patio, or any other surface with the help of the appropriate nozzle.
Pros
One of the best parts of this unit is the TSS (Total Stop System), which will stop the water flow when the trigger is not engaged. This action will preserve the life of the pump. Plus, compared to other units of this power, the AR Blue Clean AR2N1 is quite compact.
Cons
While this product is generally made with a durable construction, certain pieces may still be prone to corrosion. Plus, many customers claim that the unit arrived with missing pieces, or that you have to order them separately.
Final Thoughts
Made by a reliable brand, this unit has certainly proven itself efficient when it comes to cleaning outdoor surfaces. The pressure is not too low, nor too high – and will certainly finish a regular job in a few minutes. Hopefully, our AR Blue Clean AR2N1 review allowed you to come to a decision.