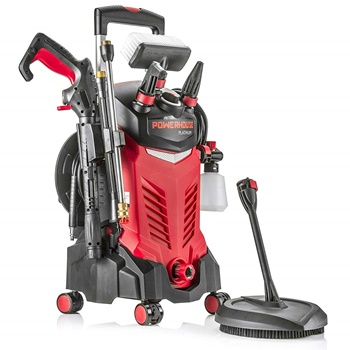 Powerhouse has made a name for itself by creating pressure washers for all purposes – light, medium and heavy-duty. The 3000 PSI, in particular, has gained quite a lot of popularity. This is why we have decided to provide a Powerhouse International 3000 PSI review so that the choice you make is well researched.
Featuring more power than the average electric pressure washer, this unit is not only reliable but it's also very convenient. However, there are some factors to consider – so, before making the purchase, you need to make sure that you know all about them.
Powerhouse International 3000 PSI Specifications
Among electric power washers, this model certainly packs quite a lot of power. At 3000 PSI and 2.2 GPM, this one can categorize as a commercial unit as well – but considering that the pressure is adjustable, you may use it for any task you have in mind. As a result, you may clean heavily dirty concrete just as you would a muddy car.
This unit was made with a stable design in mind. With 4 caster rolls that allow you to roll the unit along with you, you will not have to worry about having to lift a lot of heavyweights. Plus, the wheels can be locked in their place – which means they will not start rolling away from you when you are not paying attention. Due to this design, it is also unlikely to tip over.
The high-pressure hose is very flexible – around 30% more flexible than any other previous units for this brand. Plus, the hose is fairly long – which means that you can undergo your cleaning task with ease, without having to move the unit at every step of the way.
The pressure washer requires a bit of assembly once you take it out of the box – but it's nothing that will take more than a few minutes to put together. Generally speaking, if you read the manual carefully, the entire process would be smoother and not at all difficult.
Featuring a telescoping handle, this unit is quite easy to maneuver. Plus, since it only weighs about 32 pounds, it is portable and very easy to store.
This device features a universal spray gun. Plus, it has two stainless steel lances: a proprietary one, and a universal one with five tips. The tips are chosen based on the sensitivity of the unit that you are planning to power wash.
Customer Service and Warranty
This unit has made a name for itself due to the fact that the customer service is supposedly flawless. And indeed, the company may be contacted by mail and telephone with ease – with most issues resolved almost immediately. You will either get a replacement for any damaged parts, or you may get a new unit based on the gravity of the damage.
The warranty is standard – one year limited. Still, you will have to register the product on their website upon buying it. Plus, since this unit is generally meant for residential use, you may not get coverage if you overused it for commercial purposes. To be eligible, you also have to provide proper maintenance.
What to Expect from the Powerhouse International 3000 PSI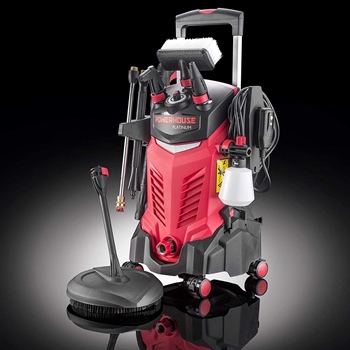 When it comes to cleaning ability, this model certainly lives up to its name. At 3000 PSI, it can get medium to heavy-duty cleaning done – going from dust, dirt, and debris to the most difficult of stains. Granted, if you want the best results, you might want to use the soap applicator, as well as the other attached accessories.
Pros
Since it runs on 4 caster wheels, it is very easy to transport. The accessories are also ultra-convenient, from the rotating patio brush to the extendable spray wand. The price is very attractive for such a strong unit.
Cons
The soap module is rather small – so, you will have to refill it several times during use. Also, since the wheels are relatively small, it might take you some time until you get used to it.
Final Thoughts
While this unit might not be the smallest on the market, it is certainly useful if you want to get some proper cleaning done. As you have seen in our Powerhouse International 3000 PSI review, thanks to its power, even dried up grime should be no match for it.