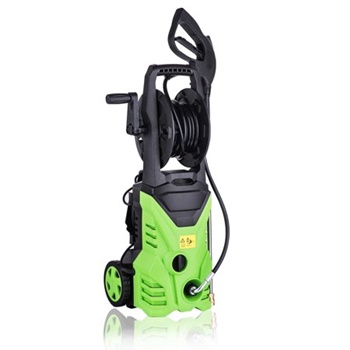 When it comes to finding a good pressure washer, it might be difficult to come with a good decision. There are so many great aspects of so many quality models – but many people agree that Homdox has always managed to come up with top-notch units. One model, in particular, has made itself noticed – which is why we have made this Homdox 3000 PSI review to see exactly what it can bring to the table.
Packing enough power to be considered both a residential and a commercial pressure washer, this unit can easily help you clean any outdoor space that you may have. If you are thinking about buying this product, here are some aspects that you might want to know about it first.
Homdox 3000 PSI Specifications
The Homdox 3000 PSI is an electric pressure washer that has been deemed a "medium to heavy-duty" unit. This means that while it is mostly suitable for casual residential work, it may also be sometimes used for commercial purposes – but only to a "light commercial" extent.
This pressure washer has been equipped with an 1800-Watt motor that can generate as much as 3000 PSI at 1.76 GPM. Among electric pressure units, this model is quite powerful – and can easily take care of difficult stains that you normally couldn't with an electric device. Plus, an advantage that this has over other units is the fact that you may raise the temperature to 40 degrees Celsius.
The unit in itself does not allow you to change the pressure with only the push of a button. However, you have 5 interchangeable nozzles that will allow you to modify the spray – therefore making it more appropriate for both hard and delicate surfaces.
Thanks to its compact size, this unit is very easy to carry around. It was made in a way so that you may simply carry it with one hand. Plus, thanks to the wheels that it has been equipped with, you may easily roll this unit around with you – without having to support the entire weight with your back.
This unit has been equipped with a TSS system – a switch from within the unit that will automatically shut the pump off when you aren't engaging the trigger. Not only will this save you on water and energy consumption, but it will also prolong the life of the pump.
The Homdox 3000 PSI requires some light assembly, as seen in the user manual. You must pull the pressure washer out of the box, connect the garden hose, the high-pressure hose, and the spray gun. Rest assured because the entire process is explained in the guide.
Warranty and Customer Support
When it comes to listening to its customers, Homdox provides quick support through its all contact channels. The customer service staff may be contacted 'round the clock – and depending on the nature of the problem, you may get a partial replacement (pieces) or a full replacement (a new unit). The warranty is valid for a total of two years – but customer service may be offered even after the warranty has expired.
What to Expect from the Homdox 3000 PSI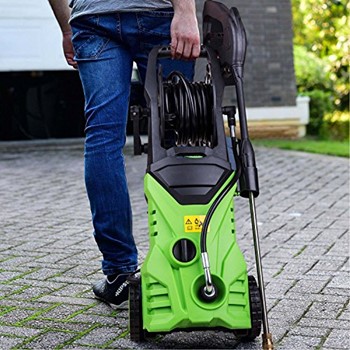 Many people consider this to be a superior pressure washer due to its convenient design and ease of use. This unit packs quite a fair amount of power, and it can easily tackle medium-duty work – as well as some of the heavy-duty kind.
Pros
Despite the fact that this unit packs great motor power, it is actually very lightweight. Plus, compared to other electric power washers, this one is very quiet. You also have a variety of attachments, in case you want to customize your pressure washing task.
Cons
This model requires a fair time of assembly upon arrival. Plus, the reel is rather sensitive – so, unless you are very careful, you risk breaking it.
Final Thoughts
The Homdox 3000 PSI is a good, lightweight option for those who want both power and convenience. It has a very powerful motor – and despite that, it is still very easy to transport from point A to point B. Hopefully, our Homdox 3000 PSI review has managed to help you in making your decision.