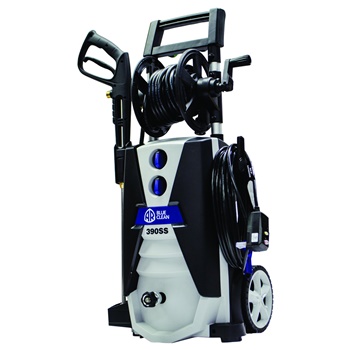 In regard to pressure washers, this Italian brand has managed to make a name for itself by creating great quality pressure pumps for more than 60 years. Needless to say, if they hadn't known what they were doing, they would not have been on the market for these many years. With our AR Annovi Reverberi AR390SS review, we will analyze that quality on a deeper level.
A bestseller in many markets, this unit has proven to be quite useful in removing dirt and grime from around your household. As a savvy buyer, you will have to learn about the model specifications and other important information provided.
AR Annovi Reverberi AR390SS Specifications
The AR Annovi Reverberi AR390SS is an electric pressure washer that is said to be able to tackle medium to heavy-duty tasks. Powered by a 120V/60Hz motor, this unit can produce as much as 2000 PSI at 1.4 GP – resulting in a total cleaning power of 2,800. It also features a TSS (Total Stop System) that will stop the device if the trigger is not engaged.
This pressure washer has a very compact design – but even though it is so small, it is still very powerful. It is very easy to use as well – and if you follow the instruction manual, you may get the unit started in less than 3 minutes after you unpack it. All you will be required to do is to plug the water inlet, connect the hose, and then connect the nozzle to the unit.
Among other electric pressure washers, this is said to be one of the most environmentally friendly. The manufacturer claims that this product uses less than 80% the normal amounts of water – all while being 45% stronger than your average garden hose.
Upon receiving the electric pressure washer, you will see that it comes with anything you might need from such a device. First of all, you get a 30-foot high-pressure hose that will improve your maneuverability of the unit. Plus, you will get a 48 oz. detergent tank and a garden adapter. This will make the unit far more efficient and versatile.
Along with everything else, you will receive four nozzles that are great for different tasks. For example, while the 0-degree nozzle might be great for cleaning hard surfaces such as concrete, the 25-degree one will be more suitable for vehicles or softwood porches. Aside from those two, you will also get a turbo nozzle, a rotary nozzle, and a low-pressure detergent dispenser nozzle.
Weighing only 35 lbs, not only is this unit easy to carry, but easy to store as well. Plus, the wheels allow you to roll it around wherever you want, without having to worry about the extra weight.
Customer Support and Warranty
When it comes to customer support, AR Annovi Reverberi is well-rated on the market. They are even known to have won the "Best in Class" award for customer service – and it's easy to understand why. Not only are they quick in responding to the requests of their customers, but they are also available at every hour of the day (or night).
As for the warranty, they offer a 1-year "bumper-to-bumper" one. However, you need to ensure that when you buy the product, you also register it on their website. This way, you should be able to get the support that you need. If you are in the US, the customer support is done through e-mail or phone.
What Can You Expect From AR Annovi Reverberi AR390SS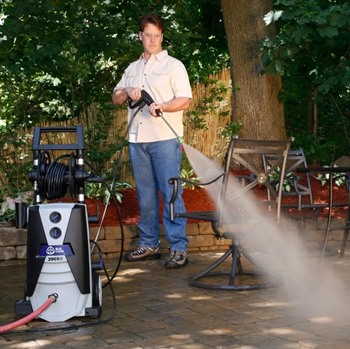 This pressure washer is advertised to provide medium to heavy-duty cleaning – but in truth, it is most efficient when it comes to medium-duty tasks. It can easily handle seasonal buildup – and it can also remove various kinds of dirt and grime. Many users say that while it might not be the easiest unit to carry, it is certainly one of the most reliable options.
Pros
The TSS is very efficient when it comes to prolonging the life of the unit. Plus, the warranty and customer support are stellar – and even if the device is small, it has been designed for great convenience. It may easily be packed away after use.
Cons
The unit has several plastic parts that are relatively fragile and you have to be careful about. Still, considering the other advantages, this is hardly a deal-breaker.
Final Thoughts
If you need a good electric pressure washer to keep the stains away from everything, then this compact unit is certainly a great choice. It is budget-friendly, it is efficient – and it is also friendly on the environment. Hopefully, our AR Annovi Reverberi AR390SS review has proven useful in your quest for a good pressure washer.