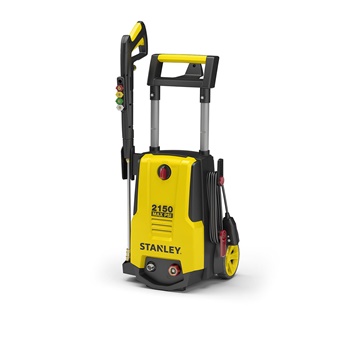 When considering the field of electric pressure washers, Stanley Tools clearly made itself known as a reliable brand. The units that it generally provides can efficiently clean any kind of household – regardless of its dirt level. In this respect, we have decided to provide a Stanley SHP2150 review, so that you will know exactly what to expect.
Having a superior performance that reigns over other residential units, this pressure washer is perfect for the outdoors – but also the indoors, if the requirements are met. However, you will have to respect the specifications and be aware of certain factors.
Stanley SHP2150 Specifications
The Stanley SHP2150 is an electric pressure washer that features a powerful 13-Amp electric motor – one that was placed in a conveniently designed, modern-looking home. It can exert as much as 2150 PSI at 1.4 GPM – which brings its cleaning power to as much as 3010. This is considered to be medium-duty power, which will generally satisfy the needs of most users.
The entire housing of this device has been mounted on two large rubberized wheels which will help you easily transport it from one place to another. Weighing 26 pounds in total, this product is also considered to be lightweight.
This unit has also been made more portable by its 25-foot high-pressure hose, as well as its 35-feet long electric cord. This way, you may cover more ground, without having the pull the unit around with you at every step of the washing session. Moreover, since the item is lightweight, you can simply grab it by its handle and carry it over rough terrains.
Unlike most electric pressure units, this model is fairly compact and easy to store. You may lower the top handle, and you can mount the hose and reeling cord on the side to save even more of the space. Combined with the lightweight construction, this ensures the portability of this electric pressure washer.
Last but not least, this unit comes with all the attachments that you might expect from it. You have four quick-connect spray tips that you attach with the nozzle holder on the spray gun. This will be very convenient if you are handling different-sensitivity surfaces. You may read the role of every nozzle by simply going through the user guide.
You will also receive a soap tip, in the event that you want to give an extra kick to your cleaning process. This is actually ideal if you are cleaning cars or concrete spots that have been stained.
Customer Support and Warranty
Stanley offers 'round-the-clock customer support for their clients – even if the warranty for a particular product has expired. The online page for customer support is user-friendly and easy to access – and you may find additional information in there.
The company offers a 1+1 warranty – which is technically two years, but with a few differences. During the first year, you will receive replacements for any part – from the motor to the accessories. This is quite convenient since the accessories are generally the first to break.
The second-year will only cover the manufacturer defects – so, if you notice something on the long run that is wrong about your unit, then you might ask for a replacement.
What Can You Expect from Stanley SHP2150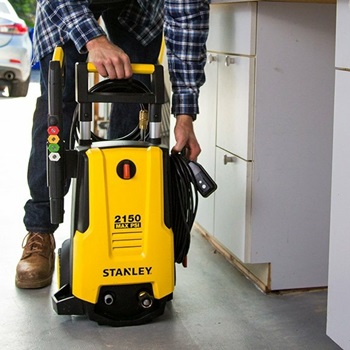 This pressure washer is very efficient when it comes to handling seasonal cleaning tasks around the house, such as washing your car, outdoor furniture, and so on. You may get pretty much any kind of stain off – even the deeply embedded ones. However, it is a medium-duty unit – so, it may not be able to deal with any type of stubborn stain.
Pros
Compared to other electric units, this washer is highly compact and very portable. You can store it and will barely take any room. Plus, since it comes with a maintenance kit, you should be able to easily take care of your unit.
Cons
Since this device does not have a system for you to control the pressure, the only adjustment may be done by changing the nozzle. This may prove to be time-consuming.
Final Thoughts
If you want to purchase a compact yet efficient washer, then we hope this Stanley SHP2150 review has proven useful to you. Thanks to this device, you can be sure that you'll tackle every outdoor cleaning chore with ease.