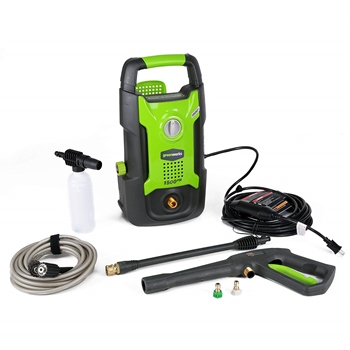 Nothing beats the benefits of having a pressure washer that you can carry like a suitcase wherever you want. In a time when we are continuously on-the-go, the last thing we want is a pressure washer that we can barely lift up. We need something with a good portability level – and for this reason, you might be interested in reading our Greenworks 1500 psi review.
According to various reviewers, this unit is quite convenient when you have to do a light cleaning job – one that would normally take a longer time to do with a cleaning brush and a garden hose.
Greenworks GPW1501 1500 PSI Specifications
Many portable pressure washer buying guides say that at 1500 PSI and 1.2 GPM, this unit may not be among the strongest that you will ever come across – but it will certainly be enough. With this power, you should be able to easily blast through dirt and grime without any issues.
Thanks to its smart design, this unit can be used both in a vertical and in a horizontal position. This way, you may choose the position that provides you the greatest stability. At 16 pounds, the device is fairly lightweight – so, it should feel like you are carrying nothing more than a briefcase.
The Greenworks GPW1501 1500 PSI pressure washer features two quick-connect tips – a 25-degree and a 40-degree one. This way, you may choose the right tip in accordance with the sensitivity of the surface. The 25-degree tip is meant for hard surfaces (such as concrete and patios), whereas the 40-degree tip is more appropriate for delicate surfaces (softwood porches, etc.).
With its 20 ft. high-pressure hose, you should be able to easily clean any surface without having to always move the unit around. Plus, considering that the hose is made with an M22 universal treaded twist, the unit in itself is rather durable – and it is unlikely that you will have to use the warranty anytime soon.
This portable pressure washer also features a soap applicator. This means that if you have any difficult stains, you can use a jet of detergent to get things clean. This can be very useful when it comes to dealing with greasy stains.
Every nozzle and inlet feature a quick-connect setting – meaning that you will not have to worry too much about wasting time. According to the user manual, all it will generally take is a "click," and you will be done setting it up in just a couple of minutes.
Customer Support and Warranty
Generally speaking, when you have a problem that requires maintenance or replacements on your pressure washer, Greenworks is very quick to answer. As long as you remain under the coverage of your warranty, you should be able to get the worn-out or damaged parts replaced – such as your pump, engine, O-rings, and so on.
Bear in mind that if you want to get the most out of your warranty, you will have to provide proper maintenance to your unit. The company will only provide free repairs or replacements if they see that the fault was not yours – and that you actually tried to keep your unit functioning at its best.
What to Expect from the Greenworks GPW1501 1500 PSI Pressure Washer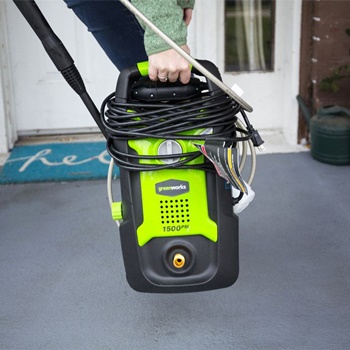 Most customers agree that this pressure washer is a great option when you are looking for something affordable and lightweight. It is a great handheld unit – and if you cannot (or do not want) to carry a lot of weight, then this will be a great break for your back.
Plus, it has all the accessories necessary to make your job easy. The hose, while not the longest of its kind, is long enough to give you the freedom of movement that you need. All this is done while maintaining the pressure that you need for a deep clean.
Pros
Probably one of the most pleasant benefits of this pressure washer is the lack of difficulty when it comes to assembling it. Not only that, but it is also provided with a set of accessories, as well as features to ensure using it happens in the safest conditions. Moreover, its power is something worth praising.
Cons
A problem you might experience could be with the hose. It's not of the highest quality, thus it might break after a while. Furthermore, you will have to handle the noise it makes when it's performing, which is quite loud.
Wrap Up
The Greenworks GPW1501 1500 PSI unit is a great choice to have around if you need a small pressure washer. However, despite its size, this unit is still fairly powerful – which means that it may be used to clean your household with ease.
Hopefully, our Greenworks 1500 psi review proved useful – and if are still browsing, you are invited to read our portable power washer buying guide.