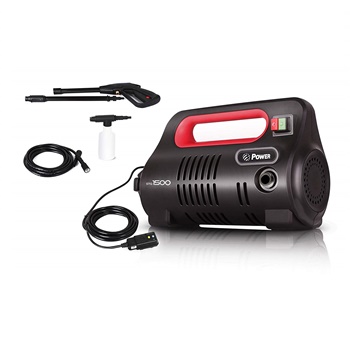 When you are looking to get your house (or anything else) properly cleaned, pressure washers can be very convenient to have around. However, when that unit is very heavy, it might make an "easy task" seem all the more difficult. If that has always proven the case with you, then our Power Products USA 1500 PSI review might be of interest to you.
Chosen by people who prefer portability and efficiency over high-pressure output, this portable pressure washer is perfect if you want to get some work done around the house. You just have to determine whether this has the specifications that you require or not.
Power Products USA 1500 PSI Specifications
Featuring a new, high-tech induction motor, the unit qualifies as a product made with superior technology. This product may be small in size, but among portable pressure washers, it brings a fairly strong output. To be more precise, it can easily deliver 1500 PSI at 1.3 GPM.
The brand advertises this product as a pressure washer that has 3 times the lifespan of a regular unit. Since it works on induction motors, it will not generate as much heat, nor will it require as much power as a universal motor. Because of this, the motor of this type of unit tends to have a longer life compared to other similar units.
Since this unit barely weighs 24 lbs, it will easily double as a handheld power washer. This means that you will not have to rely on wheels to carry it; you may simply pick it up and carry it in your hand.
Equipped with a variety of safety features, this unit will keep both you and its internal functions safe. This device features a Total Stop System (TSS), a micro switch that has high sensitivity to the water flow. When it senses that the pump is overheating from the water flow, it will stop the unit from pumping – and therefore, protect it from any damage.
The use of an induction motor will also ensure that the noise level of the pressure washer is relatively low. Plus, if you wish for its operation noise to be even lower, you may simply lower the noise level of the item. You may read the user manual if you want to learn the controls for this action.
Customer Support and Warranty
According to many users, the customer support is very efficient and is quick to respond to every request. In the event that the unit malfunctions, there are two ways for you to solve the problem: you may take it into service and replace a part using the warranty, or you may ask for a replacement of the pressure washer altogether. They also promise to give your money back if you are not completely happy with the product.
The warranty for this unit is standard, limited to two years – like most portable pressure washers of this type. Bear in mind that while it might not need the maintenance of a gas unit, you still need to ensure that you store it properly. If the damage is done because you did not take care of it, there is a chance that you will not receive coverage.
What to Expect from the Power Products USA 1500 PSI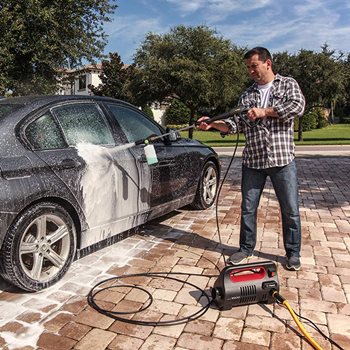 Since this unit is small in size and pressure power, you may easily clean about any type of dirt and grime – as long as there is not too much of it. It has a very durable action, as well as a smooth operation that leaves everything clean. Overall, this is what you should expect from this unit.
Pros
The design of this unit is very compact and easy to carry. You may use it to handle light cleaning tasks – and also a few medium ones. Compared to other models, this one has a very quiet operation.
Cons
Unlike other portable pressure washers, this unit does not have wheels – so, you can only carry it by hand. You may also need to be careful with the attachments, as they tend to be rather fragile.
Final Thoughts
When looking for portable pressure washers, you need to ensure that your product of choice will not be difficult to carry. This is is why the handheld design of this unit is so attractive.
Hopefully, our Power Products USA 1500 PSI review has proven to be informative in your quest for a good small pressure washer.