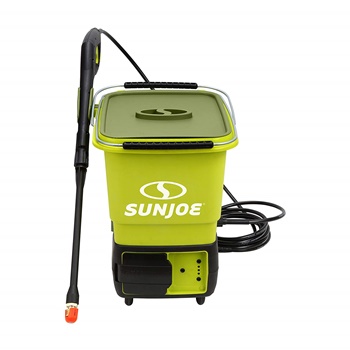 Pressure washers are extremely convenient to have around, especially when you do not want to spend hours traditionally scrubbing a surface. However, most portable units have one slight problem: you're continuously tripping on cords. This is why we believe this Sun Joe SPX6000C-XR iON review might prove useful to you.
Easy to carry and not limiting you to certain areas, this pressure washer has gathered a fair number of good reviews. We will see exactly for ourselves what we should expect from this unit.
Sun Joe SPX6000C-XR iON Cordless Pressure Washer Specifications
This unit may generate as much as 1160 PSI at 0.69 GPM. It is the perfect unit if you have some light cleaning to do.
It may look simple, but this portable power washer is actually quite innovative. It features a top-loading 5.3-gallon detachable bucket that will keep the water supply near you – and also an 8.5 oz detergent bottle. This will ensure that you are able to tackle even the more difficult stains.
Featuring pressure-select technology, this unit allows you to select for yourself the pressure that is most appropriate. Therefore, aside from the max pressure, you may also go lower for 507, 650, and 800 PSI. You may check the user manual for instructions on how to modify the pressure.
Like most pressure washers of the kind, this one will have all the quick-connect tips that you need. You have the standard 0-degree, 15-degree, 25-degree, and 40-degree tips – but you also have a soap spray attachment that will allow you to disperse soap over the surface.
Aside from that, you have a variety of other accessories as well. You have a 34-inch extension wand that will allow you easier access and control – and you have a 20-foot high-pressure hose that can withstand the power of your pressure washer. Last but not least, you have a garden hose adapter along with a needle clean-out tool.
Everything is powered up nicely by a 5.0 Amp battery that will keep everything running smoothly for a fairly long time. It should be enough for you to finish every task you have effortlessly.
Customer Support and Warranty
Sun Joe claims from the very start that "they have us covered." Backed by the Sun Joe Customer Promise, every malfunctioning unit or piece will be replaced in a timely manner. They also put a lot of focus on their no-questions-asked policy – meaning that regardless of the nature of the damage, you should be able to receive a replacement.
The warranty is valid for two years – but depending on the seller, you may also negotiate an extension. Needless to say, to get an extension on that warranty, you will have to pay an extra fee. Most users recommend that you contact them via telephone, as you will be able to get a response much faster.
What to Expect from the Sun Joe SPX6000C-XR iON Cordless Pressure Washer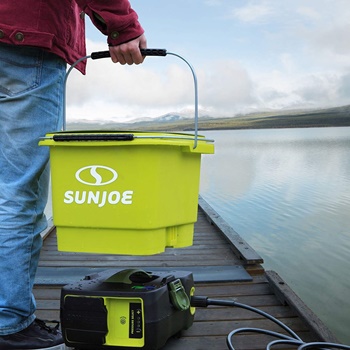 According to most reviewers, this cordless pressure washer is perfect if you have a small project on your hands. It does not have the power of a residential model, but it's still enough to clean your car, patio, outdoor furniture, and so on. Overall, this is what you might expect from this unit:
Pros
You'll have a battery that you can recharge at any time and a long-lasting one at that. The unit comes with a bucket to prevent you from being limited to tap water. Besides, if you need to clean outside, this pressure washer is great for this task. This is because it's cordless, so your movement won't be limited.
Cons
You might not love it if your terrain is unleveled since the wheels will not work too well. Another disadvantage would be the low PSI output, which is due to the fact that the unit uses a battery as its power source.
Final Thoughts
If you are looking for freedom of movement while you are using a pressure washer, then this unit should certainly prove suitable. Not connected to any water supply or electrical outlet, you can take this in the wilderness and still use it.
Hopefully, our Sun Joe SPX6000C-XR iON review proved useful to you. You should also check more buying guides, in the event that you are still weighing your options.