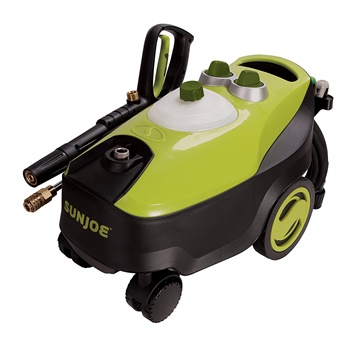 When it comes to pressure washing, there are two kinds of people. The first kind will stay in just one place or slightly walk around a certain object. The second kind will move from their house to their car and onward to their fence – which means there won't be much sitting around. If you're part of the second category, you should read our Sun Joe SPX3200 GO ANYWHERE review.
With a relatively compact form and a decent pressure power, this unit is a great thing to have around if you must undergo some light-duty cleaning. If you have a dusty porch, patio or some yard furniture that needs a refresh, then the device will literally allow you to go anywhere.
Sun Joe SPX3200 GO ANYWHERE Specifications
Perhaps the most important aspect of this unit is that it may literally be carried anywhere you want. At 20 pounds, you pick it up exactly like you would a vacuum cleaner: without any difficulties. You can just grab it and take it wherever you need it.
Plus, even if you do not want to pick it up yourself, you have the option of 360 degrees easy-glide wheels. This way, all you will have to do is pull from the hose and the power washer will follow right after you.
Featuring 5 quick-connect spray tips, you may use this unit to clean any kind of surface. The 0-degree tip is perfect when you have some difficult stains to deal with since the water jet is highly concentrated. However, it is quite powerful since it features 2030 PSI at 1.76 GPM.
If you have a more delicate surface, you may rise up the degree of the tips to make it safer. If you have a softwood porch, for example, then the 40-degree option will be a much safer choice. You will also get a soap nozzle if you want to give your cleaning power an extra nudge – and you will be drawing soap from the 27 fl. oz. soap tank.
This device has been equipped with TTS – short for Total Stop System. This will switch off the pump automatically in the event that the trigger is not engaged. This will save on energy on your electricity bill – but it will also prolong the life of the pump.
Customer Support and Warranty
The customer support may easily be contacted through e-mail or phone number in the event that you have a problem to report. If you have a Sun Joe shop in your area, you may also go with your warranty there and explain what the problem is.
Bear in mind that any issue may be addressed if you provide it the proper maintenance. If you didn't and the unit broke down simply from your own negligence, then there is a chance that you might not get the warranty at all. You will have to prove that the defect is not your fault.
That being said, you get two-year coverage for the more important parts of the unit. This way, if the engine, pump, O-rings, or any other important piece gets worn or damaged, you may be able to change it for free. More information about the warranty may usually be found in the user manual.
What to Expect From the Sun Joe SPX3200 GO ANYWHERE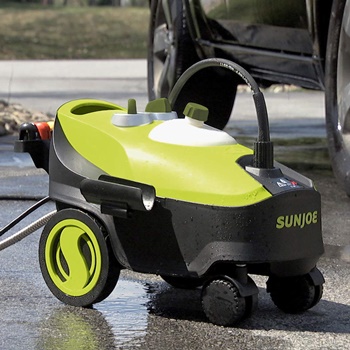 As you were able to see from our small pressure washer buying guide, the Sun Joe SPX3200 GO ANYWHERE is the kind of unit that has a smaller pressure compared to other residential units – at the same time, it is quite powerful. Overall, here is what you may expect from the unit.
Pros
You'll love this unit as it is very portable thanks to its wheels. Also, it isn't heavy, making it perfect for moving it whenever you need. The cleaning power is strong enough due to the 27 fl. oz. soap tank, while the motor won't waste any energy, saving you some of the costs.
Cons
On the negative side, you might find it too complicated to read the power labels, which will give you some trouble. In addition, reaching the max PSI won't be easy, but rather annoying.
Final Thoughts
This pressure washer might not be among the most powerful units – but when it comes to portability, it is fairly hard to beat. Not only is it lightweight, but you can easily wheel it around without any issues. Hopefully, our Sun Joe SPX3200 GO ANYWHERE review has proven to be informative for you.