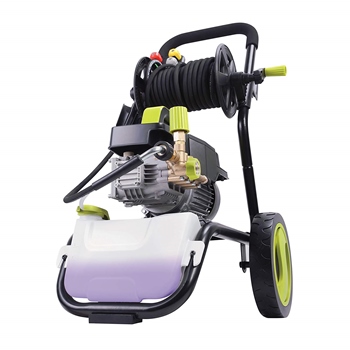 Good pressure washers are relatively hard to come by – but every now and again, a reputable brand comes by and will give you exactly what you need. Sun Joe has made itself noticed by providing quality machinery – which is what we will determine in our Sun Joe SPX9009-PRO review.
It's relatively hard to find a commercial pressure washer that is portable as well. However, with this model, you may reap the best out of both worlds. This should help you determine whether this product is a good choice for you or not.
Sun Joe SPX9009-PRO Specifications
With a motor of 13.5A and 1800W, this electric pressure washer is a great unit to have around when you need some heavy-duty cleaning to do. That being said, compared to other commercial units, this one delivers a slightly smaller amount of power – but the advantage here is that it may also be easier to transport.
Delivering a maximum PSI of 1800 and a GPM of 1.6, one may say that this is most suitable for medium-duty work – but considering that this is an electric unit, this one can throw a good punch. Moreover, compared to other electric pressure washers, this one may deliver quite some power.
Plus, the pressure is adjustable. All you have to do is to dial-in the pressure that you need for a particular task, and you'll be able to safely tackle anything. This is actually quite a good option if you are dealing with sensible surfaces that need a lower power.
If you are dealing with very stubborn stains on a daily basis, this unit also features some extra perks. For instance, since it has a detergent tank of 1 gallon, you may easily deep-clean the surfaces. It is actually a fairly good extra if you have a lot of grime and oily surfaces to deal with.
The Sun Joe SPX9009-PRO comes with all the spray tips that you might expect from a pressure washer – from 0 degrees to 40 degrees. You also have a soap tip that will allow you to spray soap over every surface.
Compact and with a very convenient hose reel, this unit can be easily carried and stored wherever you need it. Plus, its wide wheels make it easy for you to carry it from one point to another, without any difficulties.
Customer Support and Warranty
The customer support of Sun Joe can easily be contacted through a provided phone number. The number, replacement parts and user manual can altogether be found in this manual, but you may find it on their website as well – where you can also contact them by email. According to the reviewers, any problem that they had – and that was covered by the warranty – was fixed quickly.
Needless to say, in order for the warranty to hold, you will have to provide it the proper maintenance. If you do not provide maintenance and the mistake is caused by you and you only, then there is a high chance that you will not receive any coverage for replacement parts.
That being said, provided you properly take care of the unit, you will receive a 2-year warranty on the Sun Joe SPX9009-PRO pressure washer. This way, if any piece wears down, you may simply take it into service with the warranty. The customer support is very prompt with their aid.
What to Expect from the Sun Joe SPX9009-PRO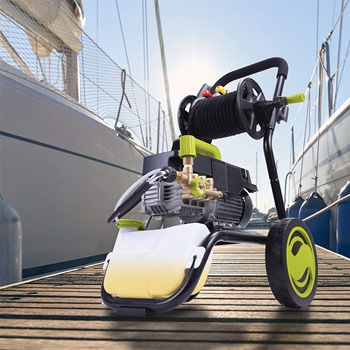 Many people agree that while the power of this unit is fairly small, it makes up for it through its portability. Since it is considerably lightweight compared to other units, it is much easier to carry over the lawn – but also to store it.
Compared to other units, this one is also very quiet. Since the motor is not that powerful, the noise will be that of a background hum – which is actually very convenient if your neighbors are easily annoyed by the noise.
Overall, this is what you may expect from this unit:
Pros
Compared to other commercial pressure washers, this one has a relatively quiet action. Its smooth operation also makes it perfect for sensitive surfaces. Plus, since it has a very compact design, it is easy to carry around.
Cons
It may be a commercial pressure washer, but its power it's not really that high. It is mostly suitable for medium-duty jobs. Plus, customers have reported that the long hose tends to get stuck in the reel of the unit.
Final Thoughts
This unit is a fairly good option if you need something to tackle medium-duty work, but you also want to reap the benefits of portability. Hopefully, our Sun Joe SPX9009-PRO review has proven to be useful to you. For more information, you might also want to check our buying guide.