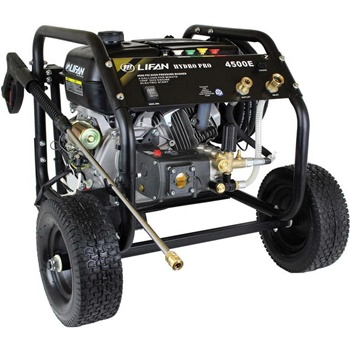 A pressure washer is generally very useful to have around, as it can help you clean in a matter of minutes quite a large area. Lifan created a lot of models that you can use however you want to – 4145 Elite being specifically made for commercial purposes. We have prepared a Lifan 4515 Elite Series Hydro Pro review for you, so that you may determine if this unit is right for your job.
Using pressure to blast away the dirt, pressure washers come in a variety of shapes and sizes – all of which you may choose based on your preferences. See whether this model suits your needs or not.
Lifan 4515 Elite Series Hydro Pro Specifications
Featuring an industrial-grade 420cc 15 MHP 4-stroke OHV engine that runs on gas, this unit can deliver quite a fair amount of power. At 4500 PSI and with a 4.0 GPM delivery output, this unit can run for entire hours and clean even the most difficult stains. It was meant for heavy-duty work and it shows.
Moreover, this unit was built on a sturdy steel frame – and while this is what makes the device heavy, it is also what makes it more durable. This way, you can take this unit over more difficult terrains, without worrying that it might be affected.
Featuring a compression release valve, this device is very easy to start – without getting too much recoil. The large 13-inch tires will prevent any damage from occurring, ensuring that it works smoothly despite its rather robust appearance.
Like many other commercial pressure units, this one also features a low oil engine shutdown protection. As its name suggests, this will shut down the unit when the oil levels are down – therefore protecting the engine. The 1.75-gallon fuel tank will also keep the engine running for quite a long time – allowing you to get every task done without having to take many breaks throughout the day.
This unit works with a premium AR RRV Triplex commercial pump – together with the engine, this will keep the unit running for quite a long time at maximum pressure. Plus, with its mounted panel controls, every command is at your fingertips. You may easily find how to use them by reading through instructions manual and replacement parts list.
Like most high-quality cleaning units of this kind, the Lifan 4515 Elite Series Hydro Pro Commercial Pressure Washer also comes with the standard nozzles: 0, 15, 25, and 40 inches, along with the soap nozzle. This way, you should be able to deep clean any surface, regardless of its sensitivity.
Customer Support and Warranty
Despite the fact that this unit is more robust compared to other pressure washers of this kind, it only comes with a 1-year warranty for a professional contractor. Depending on the seller, you may go for a longer warranty – but this might cost you.
Keep in mind that if you want to reap the full benefits of the warranty, you will have to conduct proper maintenance. By failing to do so, you risk voiding your warranty – and you will have to pay for the replacements from your own pocket.
What to Expect from the Lifan 4515 Elite Series Hydro Pro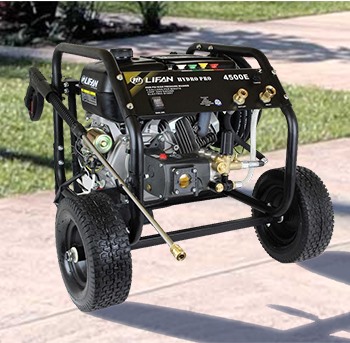 Most people that reviewed the Lifan power washer agree that it is a unit you use for heavy-duty work. For instance, if you are planning to deal with difficult stains on a daily basis, this might be more efficient compared to your standard commercial unit.
That being said, considering that it weighs quite a lot, you might find it difficult to move it. However, the 13-inch tires are very helpful in making the power washer easier to transport.
Pros
This unit is big and powerful – and it shows. The frame is very durable, and the tires make it very easy to transport. It also features a very convenient auto shutdown protection that will prevent the engine and the pump from being damaged because of low fuel or oil.
Cons
Since the unit is large and powerful, it is also very loud. Plus, considering that it has an industrial power, it is quite expensive.
Final Thoughts
This might not be among the least expensive units, nor is it among the easiest – but when it comes to cleaning power, it is one of the most efficient. It has a high GPM and PSI – and considering the heavy-duty frame, you may be certain that this will stay in your family for years. We hope you found our Lifan 4515 Elite Series Hydro Pro review useful.