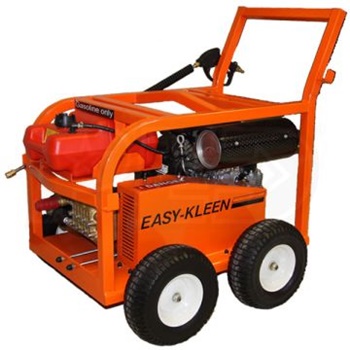 Sometimes, a standard commercial pressure washer does not give you enough power – in this case, you will have to go for an even stronger model. An industrial-size model will be able to tackle even the more difficult jobs – those that a standard 2000 PSI model will not be able to handle. In this respect, we have decided to make an Easy-Kleen IS7040G review to help you determine if it's fit for your business as well.
With its very high PSI and industrial-grade features, this is the perfect choice to have around if you really mean business.
Easy-Kleen IS7040G Specifications
When it comes to running power, anyone can agree that the Easy-Kleen IS7040G Industrial Cold Water Gas Pressure Washer is very efficient at 4.0 GPM. However, what is most impressive with this unit is that it has almost double the PSI of a standard commercial pressure washer – to be more precise, 7000 PSI. This will allow you to tackle any kind of heavy-duty work with ease, even if the grime is extreme.
The industrial general triplex plunger pump has a durable oil bath crankcase, along with brass manifolds and stainless valves. Moreover, the adjustable pressure allows you to customize the unit for any task that you may have at hand.
Having a V-Belt drive, this unit is very powerful and efficient – and may easily run for a couple of long hours. Moreover, it has a sturdy 11-gauge belt guard, which will protect it from any damage.
The 25 HP Kohler engine is equipped with a quick electric start, which means it will not take you long to get the unit going. All it takes is a quick look at the user guide, and everything should be straightforward.
Every component of this unit is enclosed, which means that it is completely safe during heavy use. However, even in this case, you may easily check the pressure through a liquid-filled gauge. This ensures that your unit will not overheat from a pressure that is too high.
Despite the fact that this unit is very robust compared to other commercial power washers, it still has components that make it easier to maneuver. Its four 13-inch solid pneumatic tires make it very easy for you to move the unit over various kinds of terrains – without worrying about the vibrations.
This unit comes with anything you might expect from a commercial pressure washer. You have all the spray nozzles necessary to tackle various surfaces – and you also have a 50-foot pressure hose that will increase your maneuverability. This way, you will not have to pull the unit after you whenever you are cleaning a particular spot.
Customer Support and Warranty
Easy Kleen has always been proud of the fact that they meet the customer expectations – which is why they made sure that they could easily be contacted. Whenever you have a problem with the way in which the unit functions, all you have to do is contact the customer service and see whether you are covered or not. In most cases, as long as the fault is not yours, you should be able to get the parts changed.
The warranty goes from 1 to 3 years, depending on the package that you purchase. Bear in mind that if you wish to reap the full benefits of your warranty, you will have to conduct the appropriate maintenance first.
What to Expect With the Easy-Kleen IS7040G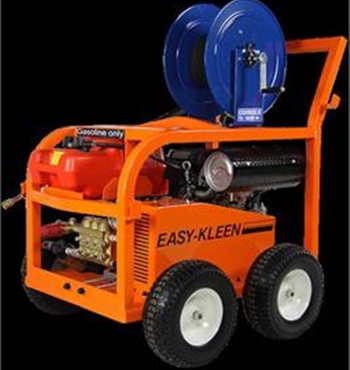 This pressure washer is an amazing thing to have around if you need something with great cleaning power. It might not be among the most lightweight – but if you plan on cleaning all day, then this one will prove reliable. Overall, here are some pros that you may expect from this unit.
Pros
Featuring a strong industrial-grade construction, this unit is durable while being easy to maneuver. Plus, while it may be robust, it still supports delicate cleaning tasks.
Cons
Due to the fact that it's very strong and big, it also has a hefty price. It may not be a good choice for shoppers on a budget.
Final Thoughts
This model is certainly not the cheapest, nor the smallest unit that you can find. Still, if you are looking for something with industrial-grade strength, this one will prove useful. Hopefully, our Easy-Kleen IS7040G review has been helpful for you. For more information, you are welcome to read through our buying guide.