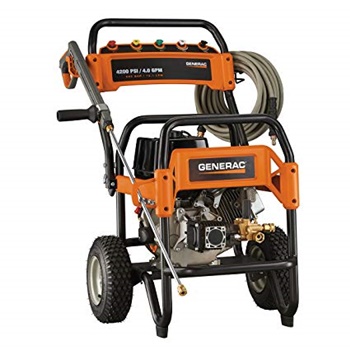 Having been established in 1959, Generac has always proven to be a dependable provider – particularly when you are looking for commercial-grade units. Used by various mortgage holders across the entire world, these units can do any kind of job and leave everything sparkling clean. If you want to find out more about such a unit, read on our Generac 6565 review.
This is a unit that can easily tackle medium to heavy-duty jobs. If you have continuous cleaning to do or are dealing with grime that is particularly difficult to clean, then this unit will certainly help you out.
Generac 6565 Specifications
This unit can provide quite a lot of power for anyone looking for superior cleaning ability. With its 420cc OHV engine, it can produce up to 4200 PSI at 4.0 GPM. Plus, it's triplex pump offers four times the life of your average pressure washer. As you may have found out by reading our buying guide, this is the perfect choice to go for if you have to deal with particularly stubborn stains.
Maneuverability has also been improved when it comes to this unit. Thanks to its strong pneumatic tires, you may take this across the lawn where you plan on doing your cleaning business. Plus, stun retention is ensured – meaning that even if you are rolling across a difficult surface, the unit should still be able to absorb the shock.
An advantage that this unit has over other commercial power units is that it also features low oil shutdown sensors. This means that if the oil goes at a level that is dangerous enough to harm your unit's engine, it will automatically shut down.
The 50-foot hose is also convenient when you have to move quite a lot during your cleaning session. It will empower you to reach a fairly wide distance, with barely any trouble from your part.
Last but not least, the unit is versatile, having all the tips that you can expect from a commercial pressure washer. You may go for the 0-degree tip, the 15-degree, the 25-degree, and the 40-degree one – depending on what you want to power clean. Plus, if you have some deep cleaning to do, you also have a soap nozzle that you may attach.
Customer Support and Warranty
When it comes to customer support, Generac knows how to keep its customers happy. Plus, as per the claims of many users, the order they have placed ended up reaching their home a lot earlier than expected. While some people saw this as an inconvenience (they were either not home or lacking the money), most were actually happy that they received their items so soon. Also, any issue they might have had with the product was easily resolved by the customer support.
Backed with a 3-year limited warranty, this unit is bound to be useful throughout the seasons. Provided you offer it the right maintenance, any issue should be resolved – but only as long as you take proper care of it. According to the user manual, if the problem was caused by poor maintenance, you may not be able to cash in the warranty.
What to Expect from Generac 6565 4200 PSI
The Generac 6565 Commercial Pressure Washer has apparently been very efficient when it comes to keeping its users happy. Its high power makes it perfectly suitable for high-grade work – and as long as you follow the steps properly, there should not be any issues. That being said, here are some pros and cons that you might expect with the use of this unit:
Pros
This unit has great safety features, as the sensors will automatically shut the unit down when the oil runs out. Plus, the oversized pneumatic tires make it easy for you to carry it over uneven surfaces, just as the long hose can provide you even greater mobility.
Cons
Some customers say that you cannot bring the pressure any lower than 3600 PSI, which can be bad for delicate surfaces. They also say that the sprayer is fragile, so you have to be very careful when pulling the trigger.
Final Thoughts
The Generac 6565 Commercial Pressure Washer is very useful to have around, particularly if you have some heavy-duty work to do. According to its users, it is very powerful – and may certainly work for hours without overheating. Versatile and safe, it's an investment that will last a long time. Hopefully, our Generac 6565 review has proven useful to you.