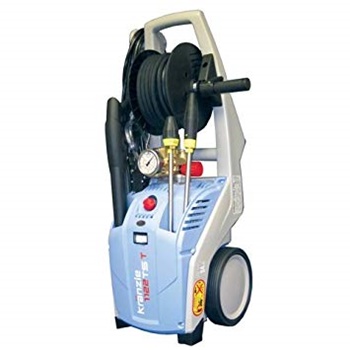 Electric power washers are very useful to have around – particularly when they are used for commercial purposes. They are lightweight when compared to gas models – but they can also be very powerful when it comes to the way they clean. This is why we have written a Kranzle USA K1122 TST review, to see if it fits the standards.
This versatile model can tackle sensitive and hard surfaces alike. With our review, we hope that we will be able to answer your question: it this is a good option for you or not?
KranzleUSA K1122TST Specifications
Electric pressure washers were made to provide durability – but with this advanced Kranzle pump design, you will get multi-hour run-dry and bypass capability that will stop the accidental damaging of the pump. This way, you can work the unit for long hours – without having to take any breaks.
Featuring a Dirt Killer turbo nozzle, the electric commercial power washer has double the regular cleaning efficiency of other commercial pressure washers. This is why it is fully recommended for businesses as well – for example, a small car wash. It is also efficient when it comes to cleaning medium-level dirt since it has 14000 PSI at 2.0 GPI.
This pressure washer features an auto on/off control at the gun get, which will reduce the wear and tear from the pump. This way, if you offer it the proper maintenance, this power washer should be able to last you for quite a lot of time.
The KranzleUSA K1122TST has been equipped with a 50-feet wired braided hose that you can pull back on a hose reel together with the safety couplers. You can find out exactly how to do so by reading the user manual.
The vertical frame of this unit features two wheels at the bottom, which means that it is relatively easy to transport. Plus, it is very compact, meaning that you may store it wherever you want – even if it is right under a desk.
The unit is not very lightweight, but not very heavy either. At 80 lbs, you could say that this unit is "middle class". You may easily pick it up when you want to – and if you decide to carry it around using the wheels, you will see that the task automatically becomes much easier.
Customer Support and Warranty
According to most reviewers, the customer support is very quick to answer. The contact information is generally provided on their website, and you also have a telephone number to contact the support team. This is generally done in the event that the unit malfunctions under warranty – and it's not your fault this happened.
However, you need to remember that pieces that are changed under warranty will only be covered if you conduct proper maintenance on the device. Otherwise, it will be considered that any malfunction that occurs is actually your fault.
That being said, Kranzle provides a one-year warranty. It is a short period when compared to other warranties – but considering that the unit is well-built, there is a high chance that you will not need it.
What to Expect from the KranzleUSA K1122TST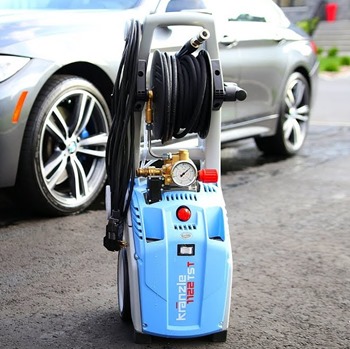 According to most users, while this unit might be slightly bulky, it is also very versatile and adaptable to any socket or outlet. Plus, thanks to its well-designed pump, this unit may run for hours – making it perfect for any commercial establishment.
Most people appreciate the fact that it has a very long hose, one that will allow you to reach even the more difficult areas. However, this might cause the unit to lose from its pressure – which is already relatively small, to begin with.
Pros
The motor of this unit may be adapted to any power supply, without any worries of damage. The pump may also run for a fairly long time, making it efficient for heavy-duty work. Topping it with a long hose that may reach long distances, this unit is very efficient in a commercial environment.
Cons
While it may be a commercial unit, its power is still fairly low. Plus, it is not as versatile since it does not include the standard quick-change nozzles included for most units.
Final Thoughts
This power washer is basic – still, it has everything you might expect from a good pressure washer. Hopefully, our KranzleUSA K1122TST review proved informative for you. For more similar products, you might want to check our commercial pressure washers buying guide.