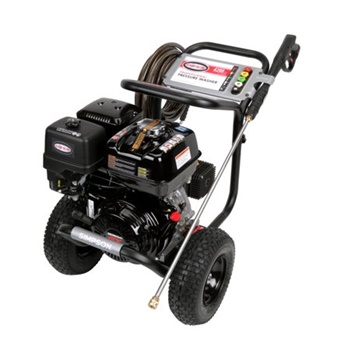 When you live in an area where the environment is going crazy, you need something that has the ability to keep things clean. For this reason, we have gathered up information in our SIMPSON Cleaning PS4240 PowerShot review, to see exactly what this unit can do.
With mold and mildew growing with humid weather and dust setting with dry weather, you need to bring out the big bosses that are able to clean away all that dirt. Since there are so many powerful pressure washers on the market, you are not always certain which model you should go for – which is why you need to stay informed.
SIMPSON Cleaning PS4240 PowerShot Specifications
One of the main reasons why people love this power washer is that it comes with a very powerful engine – namely, a HONDA GX390 engine that features oil alert. Once you add a AAA triplex plunger of industrial strength in the mix, you can imagine that this device is pretty powerful. It also has a PowerBoost technology meant to give your cleaning an edge.
With its 3.8-inch, 50-feet Monster hose, you should be able to reach quite a far distance. Plus, the quick-connect fitting should allow you to start washing quickly, without spending too much time on setting up the unit. You may easily go through with that by reading the user manual. The hose is also abrasion-resistant, which means that it should be able to handle quite a fair amount of pressure.
This gas pressure washer is strong – and with 4200 PSI at 4.0 GPM, it is quite powerful when it comes to commercial units. The steel frame on which this unit was constructed will also ensure the durability of this commercial pressure washer.
The SIMPSON Cleaning PS4240 PowerShot also comes with all the standard nozzles that you would expect from a power washer: the 0-inch, the 15-inch, the 25-inch, the 40-inch, and the soap nozzle. Based on the cleaning task that you have on your hands, you may choose the one that is most suitable for the job.
This unit has been equipped with 13-inch premium pneumatic wheels. This means that even if you have uneven terrain to go through, this unit won't get stuck – and it should be able to easily get through the mud as well. The tires are thick enough to handle heavy use – which is specific for this kind of power washer.
Customer Support and Warranty Policy
Simpson has been providing electric power washers for both commercial and industrial use for quite some time, becoming a fairly popular brand in their domain. For this reason, they have also had the time to create a good customer support system. They may be contacted through their toll-free phone, email, or message – and you may ask whatever you wish about this product. Bear in mind that you will have to respect their hours of operation.
This particular Simpson product also has a very generous warranty – but this will mostly depend on what you will need it for. Overall, certain pieces will have different coverage:
Engine: 3-year limited warranty for commercial use
Pump: 5-year limited warranty
Frame: 10-year limited warranty
Considering that this unit was sturdily built, the warranty is not very likely to be needed – at least not according to most reviewers.
What to Expect from SIMPSON Cleaning PS4240 PowerShot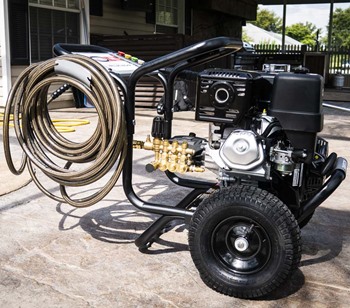 Considering that this unit has high pressure, you can expect it to be efficient for hours of pressure washing at a time. Handling heavy-duty cleaning jobs should be a breeze, as long as you follow the instructions from the user guide. Depending on what you are looking for, you may expect the following things from this unit:
Pros
The GPM and PSI of this unit are quite notable among commercial pressure washers. Plus, since the parts are durable, the device can withstand a fair amount of heavy-duty work.
Cons
Unlike other pressure washers of this kind, this one can't use hot water; only cold water. The gas emissions are also fairly strong, which is why you may not use it in enclosed spaces. Last but not least, while it may look relatively small, it packs quite some weight.
Final Thoughts
After testing this unit, it is quite clear why this pressure washer is so popular among the consumers. It is very powerful, easy to move – and if you have to do continuous cleaning work every day, then this device should be able to withstand that kind of work.
Hopefully, our SIMPSON Cleaning PS4240 PowerShot review allowed you to determine whether the unit is the right choice for you or not. If you have any other questions or wish to add something, you are welcome to do so in the comment section below.