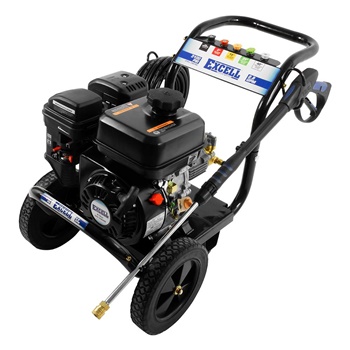 In case you're looking for a high-performing, cheaper gas pressure unit to purchase, browsing through endless lists will feel like a chore. There are so many gas washers covered by buying guides that making a choice becomes overwhelming. Since we don't want you to deal with this burden, we thought that this Excell EPW2123100 review might be of help.
It is an effective machine that will help you get rid of dirt on a wide range of surfaces. So, let's see what it has to offer.
Excell EPW2123100 Specifications
When it comes to this kind of unit, you're probably looking for something that doesn't fail to clean almost everything you need. Here's where this pressure washer can help. You will have the opportunity to clean your windows, driveway, outdoor decks, fixtures, flooring, and many others.
An effective unit is even better if it won't cause you any trouble when it comes to storing. Luckily, you have an advantage with this model. Since it was created with a low-profile frame, you can easily keep it in your garage, or under a bench.
The gas pressure washer is provided with a 25-foot hose, not to mention that it also has 5 quick-click nozzle tips included. They are 0-degree, 15-degree, 25-degree, 40-degree, and low pressure/soap. And mind you, the best thing about them is the fact that they come in multiple colors – so, identifying them will be easier than you think.
Most gas pressure washers are heavy. Still, this model is quite lightweight. You can maneuver it very easily and carry it without difficulties, which makes it simpler for you to work with it. So, if you need to lift it up, you won't have to struggle.
Moreover, you don't have to worry about the unit damaging easily. The frame is sturdy enough to protect the components from any potential damage. In addition to the strong protective frame, the no-flat tires of 10-inches will allow the unit to move smoothly across the terrain. Therefore, it won't be knocked over, again preventing any possible damage.
Last, but not least, the pressure washer has a storage system that will thoroughly organize the hose and the spray gun. This will keep them in check and make sure they are properly positioned.
Customer Support and Warranty Policy
Issues can occur with any unit, including the Excell EPW2123100. Luckily, you won't have to handle them yourself. Excell wants to make sure you experience no problems with the product, which is why they created a way for you to contact them. In their operation manual, you will find a phone number that will direct you to one of their employees. There, you can get more specific information about the warranty, and you can also call for any defects you notice with the unit.
The warranty is limited for 2 years, as long as it is for residential purposes. For a reconditioned unit or commercial use, you will have 90 days of warranty. The warranty applies from the moment you buy the product, so keep this in mind.
What to Expect with the Excell EPW2123100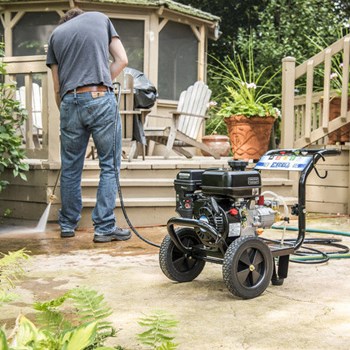 This unit is something to consider if you want to see your driveway, windows, outdoors fixtures or other similar things shine. It is very lightweight which makes overall use easier, and the work can be done properly thanks to the nozzles shipped with it. Since each one has a distinct color, it will be easy to tell them from each other. Here's what you can expect with this Excell model.
Pros
If you don't have too much space to store things, you won't have a problem after purchasing this product. It can be kept inside your garage or under a bench, as it's easy to store. Furthermore, you won't have to break the bank to purchase it, being cheaper compared to other gas pressure washers.
Cons
Using it for commercial purposes will only give you 90 days of warranty, which can be troublesome for some business owners.
Wrap Up
Now that you've read our Excell EPW2123100 review, we hope that you're able to make an informed decision. Don't forget to check out our buying guide if you need more information. This is a very cheap alternative for a gas pressure washer, but the low price definitely delivers high quality.