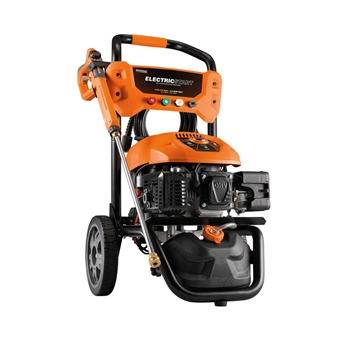 It can be very time-consuming to look for a proper gas pressure washer that can clean all kinds of surfaces and stains. But your search might end with this Generac 7132 review, once you find out about the results that this unit can offer you. With high PSI and an electric start to turn on the engine with no complications, your cleaning experience will get a boost in the right direction.
If you want an effortless start from a gas pressure washer, then you might want to consider this Generac model. Let's find out more about it.
Generac 7132 Specifications
The most distinguishable feature of the Generac 3100 is certainly the electric start – something that not all gas units have. With only one touch push, the pressure washer will start without forcing you to wait. This is one reason why so many people were pleased with this particular model.
For whenever you have to switch cleaning places and deal with a rather stubborn area, you have different nozzles that are easy and quick to change. They come in a number of 4, and they're 0-degree, 15-degree, 40-degree, and soap. That means that you can change them depending on the difficulty in removing specific stains.
Also, one thing you'll come to appreciate is that the hose connections are easy to use. There's barely anything to worry about, especially since they're so solid. This doesn't only make the hose more durable altogether, but it also makes sure it will handle the water pressure.
Since you can use it for various surfaces, Generac also implemented a power dial spray gun. Simply put, this feature will let you switch between a total of four tasks, respectively concrete, wood, soap, and car. The controls are easy to reach and use, as you can see in the owner's guide.
Moving on, you will see that this Generac model has a li-ion battery. You will also get a charger, but you won't have to be constantly charging it since the battery can last for up to 18 months.
With its 3100 PSI, the unit makes it possible to penetrate through every stain, even those that seem almost impossible to remove. It will thoroughly get rid of them, and your house's surroundings will shine bright. Moreover, it has a water flow of 2.5 GPM, adding to the power of the device.
The assembly will be trouble-free thanks to the vertical axial cam pump with extended connections, and you'll have easy access to the detergent tank.
Customer Support and Warranty Policy
Problems may occur with the gas pressure washer. If you didn't cause the malfunctioning, you shouldn't have to deal with it by yourself. That's why Generac is easy to reach on the phone or through their website. By making this possible, they are closer to their clients and are able to help them with warranty information and services.
Regarding the warranty, you have a 2-year limited one.
What to Expect from Generac 7132?
This unit will save you a lot of time when it comes to cleaning various surfaces. Dirt is often a drag to remove from specific places, but with its 3100 PSI, the easy to switch nozzles and other features, this task won't be a problem anymore.
Pros
This gas pressure washer from Generac is perfect for people who don't want to struggle with their cleaning. Because of its electric start, it will automatically turn on. More than that, the fact that it's lightweight makes it easy and nice to carry around when performing various tasks.
Cons
Despite being strong and easy to connect, the hose has a tendency to twist. Also, according to some clients, the product had some missing parts.
Wrap Up
Generac 7132 might be your go-to gas pressure washer, especially if you're new to this kind of device and want something easy to use. Since it's lightweight, you'll transport it very easily, while the water pressure will make sure to eradicate all dirt in its way. So, we hope that the information we provided in this Generac 7132 review was helpful.