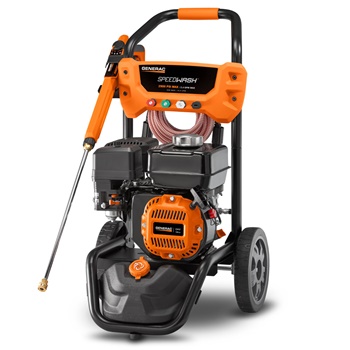 Aren't you tired of pressure washers that operate too slowly? We get it – nobody likes that. But thankfully, not all models are as slow as a slug, and the Generac SpeedWash 7122 is proof of that. This gas pressure washer is very strong and has the ability to clean everything you need in less time. To offer you more information about this device, we have prepared this Generac SpeedWash 7122 review for you.
If you didn't think cleaning can be fun, well, this unit will prove you wrong. We tested this device and decided it would be great to provide people with more details, helping them decide if it's the right product for them or not.
Generac SpeedWash 7122 Specifications
This particular unit has a very good nozzle system to ensure you won't have a difficult time getting rid of the stubborn grime and dirt on various surfaces. With a speed that's 30% higher than standard nozzles, the powerful system is enough to rid you of the hardest to remove dirt. Even using it on concrete, brick or other pretentious surfaces will satisfy you with the results.
Since some stains can be harder to remove than others, Generac also added a soap blaster. This addition can spray soap three times farther compared to standard nozzles. Therefore, it will take over the most stubborn stains and effectively remove them.
Among gas-powered pressure washers, this one has a very strong engine, respectively a 196 CC OHVI engine. In other words, it is able to hold up to 196 CCs of fuel, which just adds to the overall power of the whole unit. Given the engine is of such high quality, you don't have to worry about gas leaks or anything of the sort, making it safe and convenient altogether.
And since you don't want to waste any time, the device was also provided with some nozzle tips that you can change very quickly. The nozzles are 0-degree, 25-degree, 40-degree, and soap. Each individual nozzle serves its own purpose.
For example, as mentioned in the owner's guide, the 0-degree one gives concentrated water blasts in order to remove substances, while the 25-degree one is effective for grime and oil spills. The reason for this is its wide, yet concentrated spray angle. Concurrently, the 40-degree one works hard to quickly clean the most stubborn stains, whereas the soap nozzle is meant to shoot out suds. A power broom is also attached to make the cleaning even faster.
Customer Support and Warranty
Generac has good customer support that cares about their clients, so they're reachable for any questions you have about their unit. If you encounter any problems, they will also be there to help you out.
There is also a warranty for the item, so you will have a period during which your device will be examined and repaired, while you won't have to cover any costs. But you need to keep in mind that it only applies to products sold in Canada and the U.S. You will have 3 years warranty from the moment you buy the item.
What to Expect with the Generac SpeedWash 7122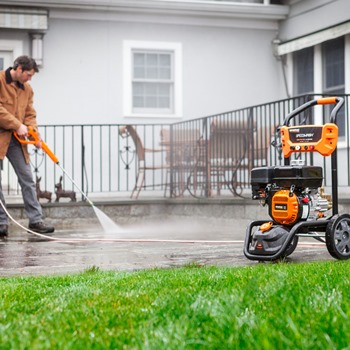 This is a very good pressure washer that helps you clean around much faster than you would with other similar devices. Since so many mechanisms have been added to help the process, no trace will be left on the surfaces you clean, even if you're dealing with the worst stains.
Pros
It has the ability to clean effectively and leave all surfaces shiny. Moreover, it does this very fast. It's easy to maneuver, while it has never-flat wheels to let you transport it easily.
Cons
According to some users, the unit has taken a while to start. It might also be an issue with the warranty, which doesn't apply unless you meet some requirements.
Final Thoughts
If you were looking for a good gas pressure washer that cleans any surface in half the time of other models, we hope that this Generac SpeedWash 7122 review has helped you. Coming with special attachments to aid the cleaning process, it will definitely not disappoint. Feel free to check other similar gas units for comparison too. You will see the benefits of the Generac model much clearer this way.