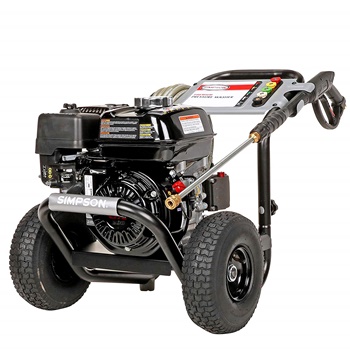 An environment full of dirt is not a healthy and pleasant one, that's a fact. But when you don't know what to do to remove all the grime and stains from various surfaces, you can easily get discouraged. In this situation, we can help with this Simpson PowerShot PS3228 review. This pressure washer has a powerful engine, a strong steel frame, and high PSI to clean a wide range of surfaces.
This versatile, durable and high-performing unit will make your cleaning process easier, and even make you eager to start the task. Read on to discover if it's right for you or not.
Simpson Powershot PS3228 Specifications
First things first, the pressure washer was designed in such a way to protect the components from any damage. That being said, the frame is made of steel, and it's heavy-duty. Additionally, it has a matte black finish to make it look beautiful wherever you store it.
The unit comes with a HONDA GX200 engine that is meant for commercial purposes, but it works for individual use too. It's so powerful that it can get rid of the most stubborn stains. And as a nice addition, the engine has an oil alert system.
If you've had gas pressure washers before, and you found it difficult to work with the nozzles, you should know that this won't happen with this unit. The nozzles are very easy and quick to connect, and you can start cleaning right away.
The nozzles included with the unit are 0-degree, 15-degree, 25-degree, 40-degree, and soap. It's important to note that they all work in different ways. Some are meant for less annoying stains, while others are amazing when you're dealing with some stubborn dirt.
When it comes to the hose, you will have a 25-ft one, which will resist kink and abrasion. Not to mention that it has threaded fittings – so, you shouldn't have a hard time with it.
The plunger pump provided is a AAA industrial triplex one to boost the water flow and make sure it infiltrates any type of dirt. This way, you can clean the driveway, vehicles, walls, outdoor fixtures, and the list can go on. There's also a pump bypass mode to make sure the pump is protected.
Simpson PS3228 is easy to transport, despite not being the most lightweight model out there, and has 10" pneumatic wheels. Therefore, you can handle it alone.
And one of the things you'll find most convenient is the easy to understand instruction manual that comes with the product. It has a lot of information on how to set up the unit, as well as how to use it – so, it's essential to check it.
Customer Support and Warranty Policy of PS3228
Since Simpson is such a reputable company, they make it clear that you should contact them for any broken or missing parts. Therefore, you can get in touch with them by phone or via their website. They will give you answers for any questions and will come with solutions for your issues with the PS3228 model.
For this device, you will have a 3-year warranty for the engine. The frame is limited to a 10-year warranty, whereas the pump has 5-year coverage. Lastly, accessories have a warranty of 90 days.
What to Expect from Simpson Powershot PS3228?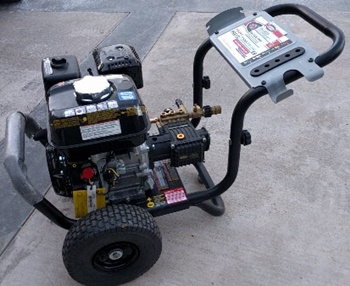 Simpson Cleaning PS3228 is one of those models that won't disappoint, especially if you have a complicated surface to deal with. It will perform well under most circumstances, and since it has a powerful GX200 OHV engine, it's suited for both residential and commercial use.
Pros
There will be no damage caused by shock since the frame is sturdy and the unit has a shock-absorption feature. The warranty lasts longer in comparison to many similar devices, and the 3300 PSI is enough for the most stubborn stains.
Cons
It might not be too affordable for many people, and compared to other gas pressure washers, this model is not as lightweight.
Final Thoughts
Simpson PS3228 might be the solution for people who have almost given up trying to scrub the dirt from many places on their property. Hopefully, this Simpson Powershot PS3228 review has given you enough information to help you decide if it's a good purchase for you or not.