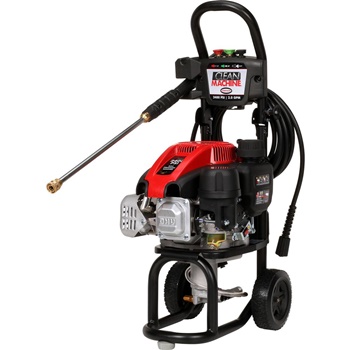 Dirt is one nerve-racking thing, especially when removing it seems like the most impossible thing to achieve. Everything you try in order to get rid of stains is futile – thus, you'll end up losing motivation and hope. Nevertheless, you will certainly recover your ambition if you purchase the Simpson CM60912, a popular gas pressure washer with a long list of advantages. If you haven't heard of this particular model yet, don't worry – that's why we are here with this Simpson Cleaning CM60912 review.
The unit is strong and durable, and the results are extraordinary. So, take a look over this device that we tested and reviewed for you.
Simpson Cleaning CM60912 Specifications
At 2400 PSI and 2.0 GPM, this unit is a powerful one that will show you what a proper pressure washing experience should look like. Coming for a very good and affordable price, you'll be surprised to see just how much this model is able to do for you. From its skill in removing the most stubborn stains to its sturdy frame construction, everything about this Simpson product is worth praising.
The frame is made out of steel and it's been powder coated – thus, it will resist corrosion and any potential external damage. So, you don't have any reason to doubt its durability.
One thing you might appreciate about the CM60912 is the fact that it's easy to store – and this cannot be said about all gas pressure washers. If you don't have too much spare space, then this could be the right item for you. It is not heavy, and it takes little space wherever you decide to store it. Since the handle is a fold-down one, storage is even more convenient.
When it comes to the system that makes it work so nicely, you'll see that the product has some nozzles that you can change very quickly. You will have 25-degree, 40-degree, and soap. And what's even better is that the distinct colors will help you tell them from each other.
The hose is not only strong enough to support a powerful jet, but the steel-braiding makes it very durable. In addition, it can resist kink and abrasion. Even if you store it in a less convenient environment, it will be able to resist very high temperatures too.
Simpson also did an amazing job by adding the 6" never-flat wheels. They are unlikely to deflate. Add to that the fact that they have a shock absorption feature, and you can see why this unit is easy to use.
Customer Support and Warranty Policy
The customer support is really good for Simpson. Since they're well aware that problems are bound to happen with some products, they ensured they're easy to reach. In their very informative guide, you will find a phone number to contact them, as well as their official website.
And if you experience defects with your unit, the warranty will back you up as long as the term doesn't pass. You have a 2-year warranty for the engine, whereas the frame and the pump both have a 1-year limited warranty. Conversely, the accessories will have a 90-day limited warranty.
What to Expect from Simpson Cleaning CM60912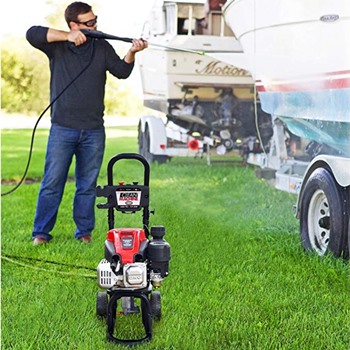 You can expect this product to work extremely well, with its large recoil engine and maintenance-free OEM technologies axial cam pump. Overall, here are the advantages and disadvantages of this device:
Pros
The CM60912 model can not only remove annoying stains but it can also work properly on more sensitive surfaces. Besides, it's not heavy at all, so you'll be able to maneuver it all by yourself.
Cons
Its balance may not be so great since the product is so lightweight. Some buyers were also a little dissatisfied with the wheels.
Final Thoughts
In case you were looking for a good-performing gas unit to clean your driveway, car or any other surface, we hope this Simpson Cleaning CM60912 review was insightful. If you end up deciding to buy this particular model, you'll surely have it for a long time, and the performance will be hard to surpass by other models.