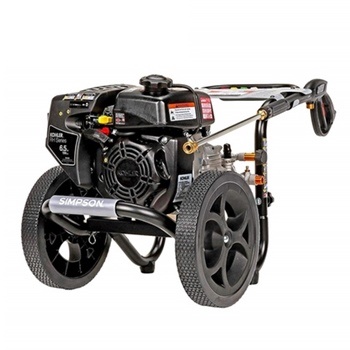 If your house or business needs some impeccable cleaning, a gas pressure washer might be a solution to your problem. One of the models you might find very attractive and high-functioning is the Simpson Cleaning MS60763-S. If you want to find out more about this unit, keep on reading our Simpson Megashot MS60763-S review.
With very high PSI and a powerful engine, your house and its surroundings will shine like never before. This device has earned many buyers' faith, and it's not a surprise since it has so much to offer.
Simpson Megashot MS60763-S Specifications
Simpson is a reputable brand, so it's safe to say they didn't play around when creating this model. It's obvious from the heavy-duty steel frame, which is powder-coated for corrosion protection. Given there's always a concern for the safety and durability of a device, the frame is sturdy and properly protects the components of the device.
The gas pressure washer has a high PSI of 3100 at 2.4 GPM. This makes it very powerful and ensures it does an amazing job. If you'd like to maintain your paint prep, driveways, vehicles and so on, you need this device in your life.
Since the power is so high, the pressure washer won't fail to eliminate all the annoying dirt from the surfaces you clean. Since the water flow is of 2.4 GPM, you will also have enough water pressure to guarantee an even greater job while cleaning.
When you receive the product, you will notice that it has 5 quick connect nozzle tips, respectively 0°, 15°, 25°, 40°, and soap. You won't have too much difficulty changing them between cleaning applications. Additionally, the pro-style spray of the unit has a safety lock system, which means that accidents will be prevented, and your pressure washer will be safe.
The nozzles allow room for multiple spray patterns, each with their own level of effectiveness. For example, while some might work when you just need some basic, superficial cleaning, others are suitable for surfaces that are more troublesome to clean.
Yet another thing worth praising is the 25-ft kink & abrasion resistant hose. It should go without saying that you want a hose that doesn't tear apart during the first few uses, right? Luckily, this one will meet this requirement and it has an impressive performance.
The unit is also easy to use. Since it is lightweight, one person is enough to thoroughly clean all surfaces that need cleaning. Adding to that, the 12-inch never-flat tires help the movement of the unit, but also make it easier to store the washer.
Customer Support and Warranty of MS60763-S
The manufacturers are easy to reach if you experience problems with your device, or something has broken. Since these popular gas pressure washers come with a warranty, they will be reachable so you can have access to the services included. Having said that, contact can be simply initiated by contacting their customer service on the official Simpson Cleaning website, or by calling them.
Simpson MS60763-S comes with various warranties for multiple components. Therefore, while the KOHLER consumer engine has a 2-year warranty, the frame has a 5-year one, the accessories a 90-day one, while the pump is limited for 1 year.
What to Expect from Simpson Megashot MS60763-S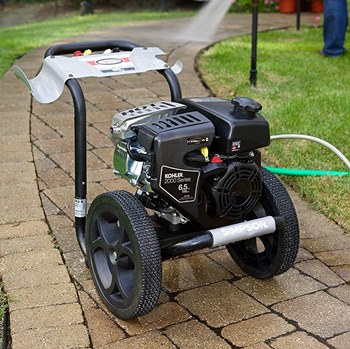 Having such great power and performance, you can rest assured that this product will help you with your cleaning tasks – even the most troublesome ones. It also has a helpful user manual with lots of easy to understand information, helping you discover the way the device works. The unit comes with its own set of advantages and downfalls, though.
Pros
Because it has 5 quick nozzles, you can switch them easily to fit the cleaning difficulty for specific surfaces. Moreover, you won't need any help to lift it up, because it's not heavy, despite its power.
Cons
Some reviewers have mentioned that the engine takes a while to start. Concurrently, some components are not so durable, despite the steel frame being sturdy.
Final Thoughts
You can't go with just any product you find when it comes to gas pressure washers. On the contrary, you need to conduct research to make sure you find a suitable model for your needs. We hope that this Simpson Megashot MS60763-S review has given you enough info about this powerful, durable pressure washer.