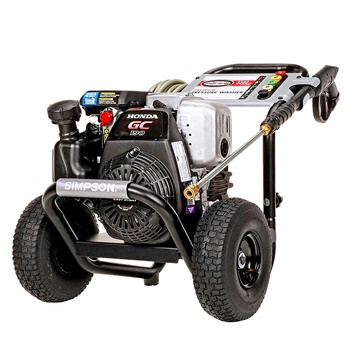 When you want to make sure that your cleaning is efficient, you can't just go for any pressure washer. Since not all of them can offer the best performance, you have to look for one that is able to deliver what you desire. For that reason, we thought that a Simpson MegaShot MSH3125 review will help you make up your mind.
Given that it has a PSI high enough to deal with multiple surfaces while being easy to lift, it is enough to impress anyone looking for a gas unit. No matter whether you want to use it for your home or your shop – it will deliver what it promises.
Simpson MegaShot MSH3125 Specifications
Many buyers have been pleased with the unit's performance. Since it has a 3200 PSI at 2.5 GPM, it makes it easy to use in multiple places and various surfaces. That includes driveways, RV's, cars and many others. That being said, it is very efficient and can provide outstanding cleaning.
The first thing you will notice about the unit is, of course, the design. Whereas the look is not what you should be directing your attention towards, it's worth checking out. There may be nothing out of the ordinary going on, but the pressure washer looks quite attractive in comparison to similar machines.
Its portability adds to the sheer list of benefits that make this product so great, to begin with. Since it has a compact size, the washer is not heavy. On the contrary, you can lift it up easily and carry it around without any strain.
Since it was provided with a steel construction frame and it has pneumatic tires that allow for shock absorption, you can rest assured the unit will last. A sudden bump won't stop it from performing. The base plate and steel frame tube will also add some corrosion protection since they are powder coated.
The unit is also easy to use. It comes with a detailed user manual that explains the way it works. You will just have to assembly the pressure washer, and since it doesn't ship with oil, you will have to add the oil after installing the unit.
If you want to change between cleaning applications, this can be done very easily and quickly. The product contains 0°, 15°, 25°, and 40° nozzle tips, and one for the soap.
Moreover, fuel won't spill unless you exceed the bottom of the filler neck when you fuel the machine – so, make sure you avoid this. Keep the fuel level at least ½ inch below the filler neck's bottom, and no incidents will occur.
Customer Support and Warranty Policy of MSH3125
Simpson really cares about its customers, which is why they are working hard to make sure you always get the help that you need. Therefore, they made it possible so that they could be contacted when there are issues with your product. So, you should contact them instead of the retailer when the pressure washer doesn't work properly.
As for the warranty, you will have different warranties for the various components of the pressure washer. That being said, the HONDA consumer engine has a 2-year limited warranty, the frame is 5 years limited, the pump is 1-year limited, while the accessories are 90-day limited.
What to Expect from the Simpson Megashot MSH3125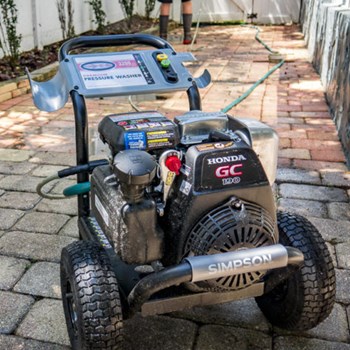 Although this model is one of the less pricey ones on the market, it is probably on the list for the most powerful ones. Add the fact that it's lightweight and you'll easily maneuver it to clean your car or the driveway – thus, you get a high-quality unit for a great price. Here are some pros and cons you should expect with it.
Pros
Apart from being very easy to use by anyone, its motor ensures the job will be done efficiently. The unit itself is very strong and it was designed to resist abrasion – thus, the damage is less likely to happen.
Cons
If you don't enjoy noisy tools, it will be a little difficult for you to run this unit without noticing the engine's loud noise.
Wrap Up
While the noisy engine may not be for everyone's ears, this gas pressure washer is still a great investment. Not only is it powerful enough to run for hours but learning how to use it will be an effortless process. We hope that this Simpson MegaShot MSH3125 review was enough to convince you. Make sure you check out our gas pressure washers buying guide if you want to find out more.